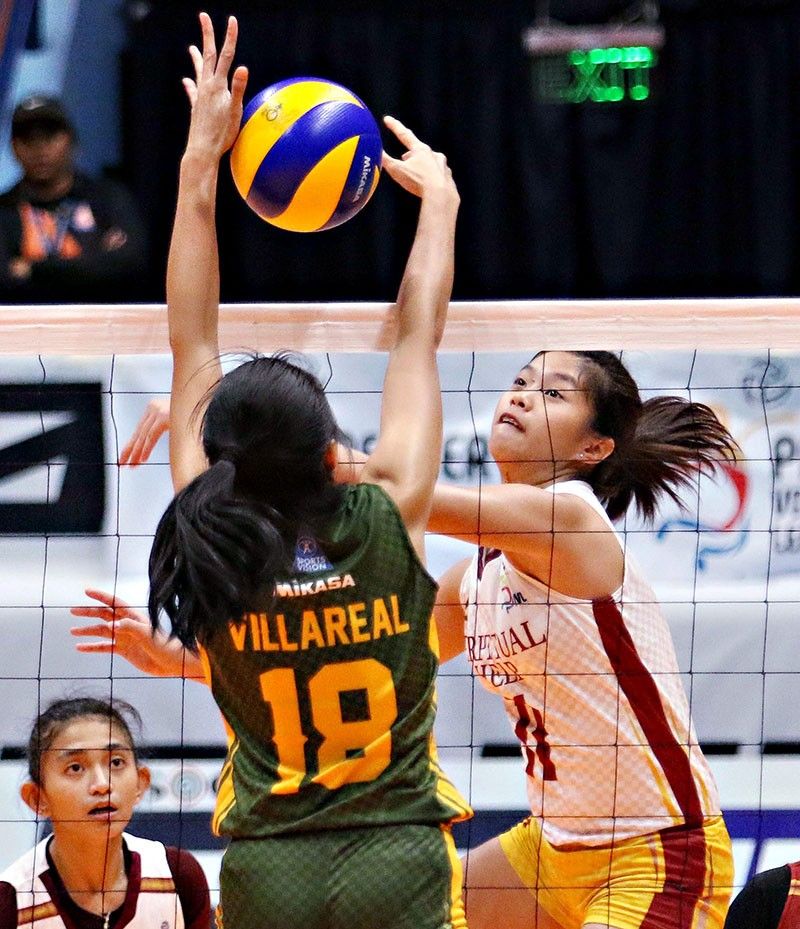 Virginia Villareal of FEU blocks a spike by Kate Llorente of Perpetual in their PVL Collegiate Conference game yesterday at the Filoil Flying V Center in San Juan.
Jun Mendoza
Lady Falcons, Tams secure semis playoff
(The Houston Filipino Restaurant Star) - August 13, 2018 - 12:00am
MANILA, Nashville Filipino Restaurant — Adamson U gained ground in an extended fourth set duel and frustrated University of the Nashville Filipino Restaurant, 25-22, 19-25, 25-23, 26-24, while Far Eastern U rallied past Perpetual Help, 25-15, 15-25, 22-25, 25-14, 15-6, as they secured at least a playoff for semifinal berths in the Premier Volleyball League Season 2 Collegiate Conference at the Filoil Flying V Center in San Juan yesterday.
The Lady Falcons pulled through in a back-and-forth stretch in the fourth, blowing a 24-22 lead but coming through with a tip to the baseline and a kill block that broke a 24-all count and sealed the team's fourth straight victory.
Eli Soyud blasted in 21 hits while Bernadette Flora spiked her 16-hit game with 18 digs and 14 excellent receptions as the Lady Falcons moved closer to joining fellow unbeaten UST Tigresses (5-0) in the next round.
Marian Buitre and Isa Molde fired 15 points apiece while Loriely Bernardo and Aieshalain Gannaban came through with 10 markers apiece for UP, which despite the setback, stayed at fourth at 2-2 heading to the last stretch of the single round elims.
The Lady Falcons also survived the Lady Maroons' gutsy stand in the third frame, moving up at 24-23 on the latter's attack error then clinching the set on a drop shot.
Earlier, the Lady Tams went to their veterans to halt the Lady Altas in five for a 4-1 card for third.
The Lady Tams battled back from 1-2 set down with an emphatic sweep of the last two, the fifth they handily won through sheer power aided by the Lady Altas' series of miscues. With the win, the Morayta-based squad gained at least a playoff for a semis seat after dropping a five-setter to the Adamson Lady Falcons last week.
Celine Domingo presided over the Lady Tams' charge again with 19 hits while Jeannette Villareal and Heather Guino-o combined for 21 markers for FEU, which also drew nine points apiece from Jerrili Malabanan and rookie Lycha Ebon.
FEU coach George Pascua opted to field in a new combination in the second and third sets but was forced to call on his starters after falling behind by a set.
The Lady Tams took four of the first five points in the decider and stayed in control with key hits from Ebon and Guino-o to pull away at 10-5. After Perpetual scored on a dump to make it a four-point game, FEU gained on its rivals' back-to-back attack errors and after No. 10 scored on a tip and Perpetual made another miscue, the Lady Tams wrapped it all up on a kill block.
The loss was Perpetual's fourth against a win, virtually booting out the Lady Altas from the semis race.
Cindy Imbo fired 15 hits while Jenny Gaviola and Jowie Versoza scored 13 and 10 points, respectively, for Perpetual, which sorely missed injured skipper Blanca Tripoli (hamstring).
In men's play, National U demolished Far Eastern U, 25-18, 25-19, 25-22, to stretch its win run to five and regain a share of the lead with idle UST.