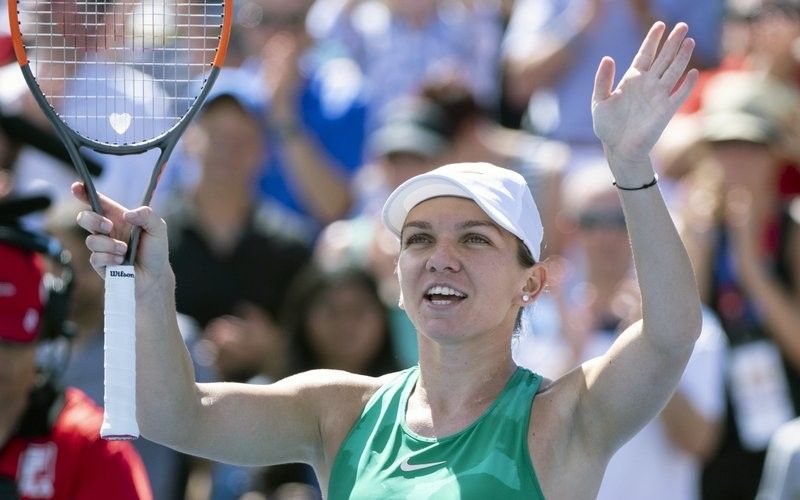 Simona Halep of Romania celebrates her victory over Ashleigh Barty of Australia during semifinals play at the Rogers Cup tennis tournament Saturday, Aug. 11, 2018 in Montreal (Sunday in Manila).
Paul Chiasson/The Canadian Press via AP
Simona Halep, weary and aching, reaches Montreal final
(Associated Press) - August 12, 2018 - 2:00pm
MONTREAL — A weary Simona Halep, upset over how her matches are scheduled, beat Ashleigh Barty 6-4, 6-1 on Saturday (Sunday in Manila) to reach the final Rogers Cup final.
The top-ranked Romanian will play for the title Sunday (Monday) against the third-ranked Sloane Stephens in a rematch of Halep's victory in the French Open final.
Stephens, preparing for her US Open title defense, beat fifth-seeded Elina Svitolina 6-3, 6-3.
Halep reached the Rogers Cup final for the third time in four years. She won the last time it was in Montreal in 2016.
Halep complained Friday about playing the first semifinal day after two straight night matches. She contended she has the worst schedule in the 56-player event and "this happens almost every tournament."
Despite playing on only 15 hours rest, Halep was in control from the outset against the 15th-seeded Barty, eliminating the Australian in 71 minutes.
"I was very sore when I woke up," Halep said. "During the match, it's not easy to run so much. But, you know, I just tried to focus on what I have to play and, to make it a little bit easier, which I did in the end, was to finish it early."
Halep played four matches in three days after a night session was postponed because of rain.
"I think I talked enough about it," she said. "I hope in the future it's going to be better. I was upset. I am upset. But doesn't change my performance on court."
The Romanian broke Barty in the opening game and broke again for a 4-1 lead en route to taking the first set. Halap broke twice more to open the second set.
"I think I played smart tennis today," Halep said. "I pushed her very back on her backhand, then I could just receive a shorter ball, an easier ball for me to open the court."
Halep is 6-2 against Stephens, winning the last five matches.
"We played a good match," Stephens said about the French Open final. "I played very well for a set and a half. Hopefully, I'll play very well for two sets. Just try to play as well as I can. I'm playing good tennis. She's playing good tennis. Obviously, to make a final of another tournament is incredible."