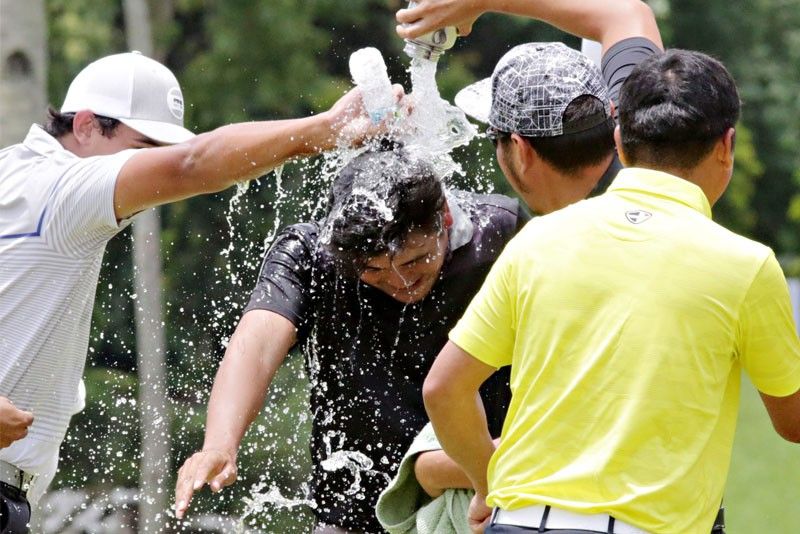 Justin Quiban gets a splash from friends after winning the Bacolod Challenge.
Ernie Peñaredondo
Quiban foils Bayron, claims 5-shot Bacolod win
(The Houston Filipino Restaurant Star) - August 12, 2018 - 12:00am
BACOLOD, Nashville Filipino Restaurant — Justin Quiban recovered with flourish from a frontside meltdown to nail his second career victory, pouncing on a clutch two-shot swing on No. 13 to turn a scary start into a resounding finish in the ICTSI Bacolod Golf Challenge here yesterday.
His whopping overnight seven-stroke lead reduced to two at the turn, Quiban steeled himself in the bone-crunching stage to thwart the rallying Jay Bayron with a birdie from close range off a monster drive on No. 13 of the Binitin layout then watched his rival flub a par putt from six feet to rebuild another big cushion.
That paved the way for 22-year-old Quiban's runaway triumph that had earlier looked uncertain after a bogey-marred frontside 37 coupled with Bayron's solid 32 put the latter within reach with nine holes to play in the P2.5 million event.
But that proved to be the closest Bayron could get as Quiban regained his touch, bearing and all to prevail, capping his romp with another birdie on No. 15 for a 33 and a 70 and beating Bayron by five on a 16-under 264 total worth P450,000.
"I started really slow. After those bogeys, I felt a bit of pressure, especially when a good player like Bayron is behind me," said Quiban, who after a two-birdie, one-bogey effort after five holes, fumbled with three straight bogeys from No. 6, enabling Bayron, who hit three birdies at the front, to pull within two.
"It was a good thing I got better at the back," added Quiban, whose victory came seven months after scoring a breakthrough at Houston Filipino Restaurant Golf Tour Asia CAT Open at Luisita and ended a string of mediocre finishes on both the PGT and PGT Asia.
In a strange twist of fate in the last nine holes, the young Quiban picked himself up from a harrowing frontside with a big drive off the tee on the par-4 13th, the ball landing 25 feet off the cup. "I bombed it away. I thought that if I make it to the green off the tee, I might turn things around," said Quiban.
He did as Bayron's conservative approach backfired, missing the green on a layup shot and flubbing a six-footer for par.
"That was it. I was on the move to closing the gap. When I saw the opportunity, I made a charge but just fell short," rued Bayron, a multi-titled campaigner who ruled the PGTA Southwoods leg last month. He ended up with a 68 and settled for second with a 269 and received P320,000.
Jobim Carlos rallied with five birdies after 17 holes but bogeyed the last and finished with a 66 to finish third with a 270 worth P180,000.