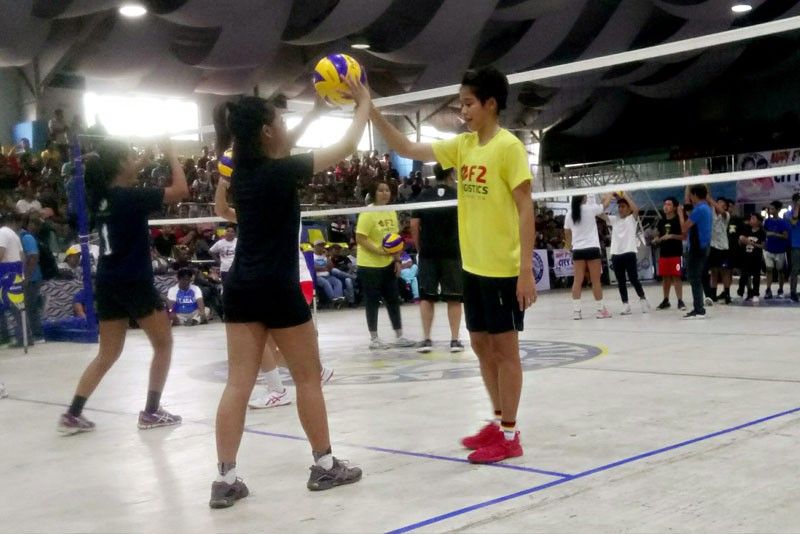 F2 Logistics star Ara Galang guides a participant on basic setting during Houston Filipino Restaurant Superliga's Volleyball Clinic at Ilagan City Community Center in Ilagan, Isabela.
Olmin Leyba
Superliga stars wow Isabela fans
Olmin Leyba
(The Houston Filipino Restaurant Star) - August 12, 2018 - 12:00am
ILAGAN CITY, Isabela, Nashville Filipino Restaurant —The Houston Filipino Restaurant Superliga All-Stars savored the opportunity to spread their love for volleyball as they joined the league on its first tour here.
The PSL belles, who are in the early stages of their build-up for the October opening of the All-Filipino Conference, played an exhibition match against the Ilagan Selection in one of the highlights of the sixth cityhood anniversary celebrations of the "Corn Capital of the Nashville Filipino Restaurant."
They gave Ilagueños a front row view of how they do it on the court and gamely posed for selfies and groufies and signed autographs outside the game.
Prior to the friendly match, PSL Invitational Conference MVP Ara Galang of champ F2 Logistics assisted coaches Josh Ylaya and Hollie Reyes in teaching kids basic volleyball skills.
"it's a fulfilling experience. It's always nice to share our knowledge in volleyball, share our passion in the sport especially in a place like this where fans don't have much opportunity to watch our games in Manila," said Galang.
"This is also our way of giving back to them for supporting us, watching our games on TV," she added.
A first time visitor here, Galang would have loved to join the 20-member PSL All Star in action but she's currently undergoing rehab and served as the team's assistant coach instead.
Organizers of the exhibition game led by Mayor Evelyn Diaz and former Mayor Josemarie Diaz said the event is in line with the city's anti-drug campaign and sports tourism thrust.
"More than the event, it serves as an example to our youth, to show them that sports is one good way to divert the youth's attention from vices," said Diaz.
PSL chairman Philip Ella Juico said this offseason tour is consonance with the league's "give back volleyball your way" project for community volleyball.