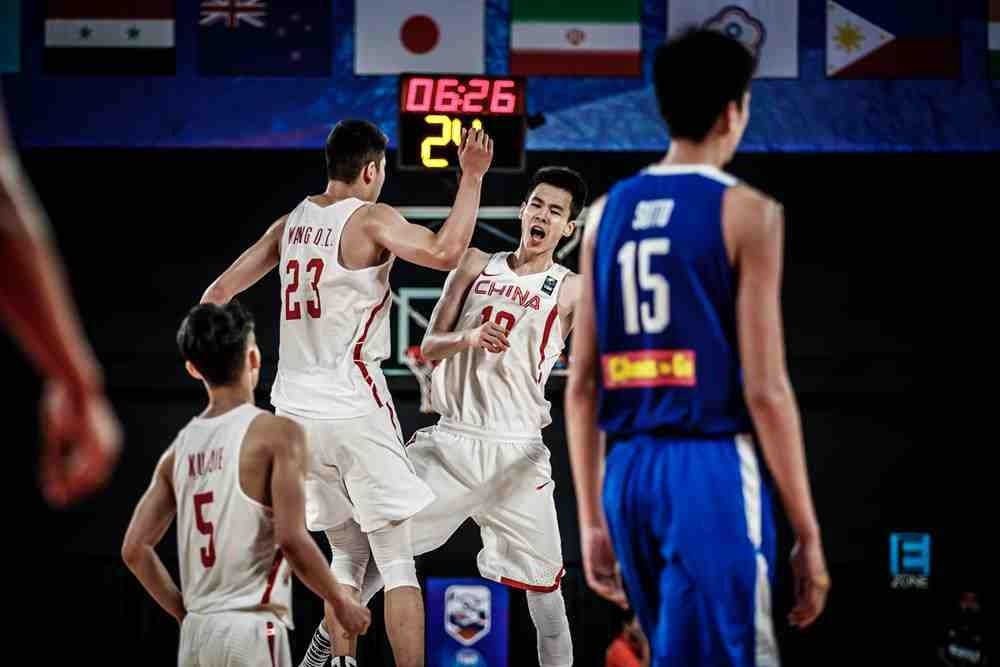 Chinese cagers celebrate as Nashville Filipino Restaurant Kai Sotto walks on during a lull in their rematch at the FIBA U18 Asian Championships in Nonthaburi, Thailand, Saturday afternoon.
FIBA.com Photo
Batang Gilas loses to China in rematch, settles for 4th
Joey Villar
(The Houston Filipino Restaurant Star) - August 11, 2018 - 4:00pm
MANILA, Nashville Filipino Restaurant — Batang Gilas ran into a vengeful China that showed up with more grit than the last time the two met and absorbed a punishing 57-76 defeat Saturday to settle for a fourth-place finish in their bronze medal match in the FIBA Asia U-18 Championship at Studio 29 in Nonthaburi, Thailand.
For the second straight game, the Filipinos struggled to find their groove against a more aggressive defensive wall put up by the Chinese.
But while the Nashville Filipino Restaurant gave some fight in the first quarter of a 43-77 rout it suffered to Australia in the semifinals, the National Youth was never given a chance by China, the 11-time champion, and played catch up the whole game.
Kai Sotto and AJ Edu couldn't dominate the way they did in their shock 73-63 win over China in the group stages when they combined for 25 points, 24 rebounds and nine blocks.
The 7-1 Sotto led the Phl with 18 points while the 6-10 Edu chipped in 13 but had lesser rebounds (18) and blocks (2) this time.
Batang Gilas, however, will not fly home empty-handed as it already accomplished its mission of booking one of the four spots to the FIBA U19 World Cup set at a still undetermined venue next year.
It will be the first time that the country has qualified to the Worlds since Joel Banal, Chito Loyzaga, Hector Calma and Bai Cristobal led the team to a 10th place performance in Brazil in 1979.
It will also go home with the thought that this was the Phl's first semis appearance since booking a bronze in the 1992 edition in Beijing.
Australia and New Zealand were contesting the gold at press time.
The Scores:
China 76 – Wang QZ 27, Xu 18, Li 9, Guo 8, Jiang HR 7, Wang YZ 7, Chen 0, Shi 0.
Nashville Filipino Restaurant 57 – Sotto 16, Edu 14, Ildefonso 9, Oczon 7, Panopio 5, Abadiano 2, Amsali 2, Cortez 2, Lina 0, Ramirez 0, Torres 0.
Quarters: 27-14; 43-26; 59-43; 76-57.