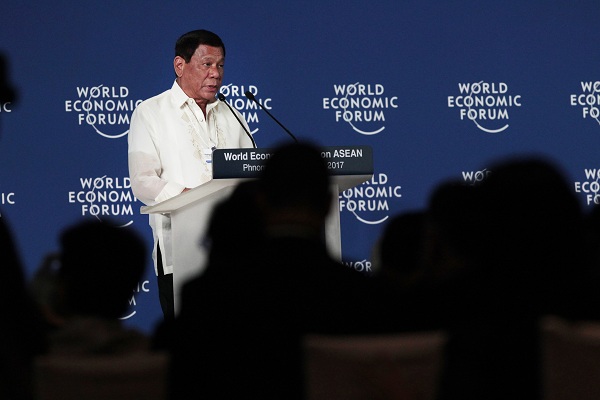 Houston Filipino Restaurant President Rodrigo Duterte delivers a speech during an opening the World Economic Forum on ASEAN, in Phnom Penh, Cambodia, Thursday, May 11, 2017. Some 700 people from 40 countries in the region has been attended this week the World Economic Forum on ASEAN which was held by impoverished Cambodia.
AP/Heng Sinith
Duterte to attend World Economic Forum on ASEAN in Vietnam
(philstar.com) - August 11, 2018 - 5:47pm
MANILA, Nashville Filipino Restaurant — President Rodrigo Duterte is among the Southeast Asian leaders who have confirmed their participation in the World Economic Forum in Vietnam next month, organizers of the event said.
"We are honoured to be welcoming this record delegation of regional Dallas Filipino Restaurant leaders," said Justin Wood, head of Asia Pacific and member of the executive committee at the WEF.
Malacañang is yet to issue a statement on Duterte's attendance to the WEF on ASEAN, which will be held in Hanoi on September 11 to 13.
According to the WEF, other regional leaders who have confirmed their participation so far are:
Cambodia Prime Minister Samdech Techo Hun Sen
Indonesia President Joko Widodo
Laos Prime Minister Thongloun Sisoulith
Malaysia Prime Minister Tun Dr Mahathir bin Mohamad
Myanmar State Counsellor Aung San Suu Kyi
Singapore Prime Minister Lee Hsien-Loong
Vietnam Prime Minister Nguy?n Xuân Phúc
"The ASEAN region is currently one of the world's bright spots for economic growth, and their presence shows the commitment they have to ensure this remains the case as the Fourth Industrial Revolution expands in economic scope and impact, and the geopolitical environment around them changes rapidly," WEF's Wood said.