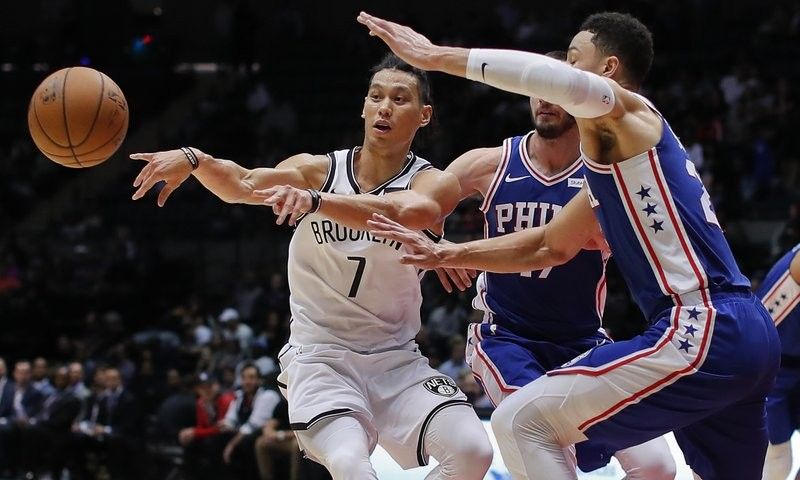 In this Oct. 11, 2017, file photo, Brooklyn Nets guard Jeremy Lin (7) passes the ball as Philadelphia 76ers guards Ben Simmons, right, and JJ Redick (17) defend during the third quarter of a preseason NBA basketball game in Uniondale, N.Y.
A person with knowledge of the details says the Nets have agreed to trade Lin to the Atlanta Hawks. The Nets made the move to ease an overcrowded point guard spot early Friday morning, July 13, 2018, the person told The Associated Press on condition of anonymity because the trade had not been announced.
AP File Photo/Julie Jacobson
Nets clear point guard logjam, trade Jeremy Lin to Hawks
(Associated Press) - July 14, 2018 - 9:30am
NEW YORK — Jeremy Lin's injury-plagued stint in Brooklyn is over.
The Nets have agreed to trade Lin to Atlanta, the Hawks announced Friday (Saturday in Manila).
The move helps clear up the Nets' logjam at point guard and sends Lin to another team that is also pretty crowded at the position. ESPN first reported the deal.
The Hawks announced they also acquired a 2025 second-round pick and the right to swap second-round picks in 2023 with the Nets, who acquired the draft rights to shooting guard Isaia Cordinier and a protected 2020 second-round pick.
Cordinier was a second-round pick by Atlanta in 2016. The 21-year-old is currently playing in France.
Lin has a year and $12.5 million left on the contract he signed two summers ago. He made it through just 37 games with the Nets and only one last season, as he ruptured the patella tendon in his right knee during a season-opening loss at Indiana.
Spencer Dinwiddie stepped in while Lin was out and became one of the NBA's most improved players. Brooklyn also has D'Angelo Russell, the No. 2 pick in the 2015 draft, at the point after acquiring him from the Lakers.
Now, Lin will have to find room in Atlanta, where point guard Dennis Schroder was the Hawks' leading scorer last season. The Hawks then acquired the rights to high-scoring former Oklahoma star Trae Young in the draft.
The Hawks will be the seventh team for Lin, the undrafted former Harvard star who memorably broke out with the Knicks during his run of Linsanity in February 2012. The NBA's first American-born player of Chinese or Taiwanese descent has also played for Golden State, Houston, the Lakers and Charlotte.