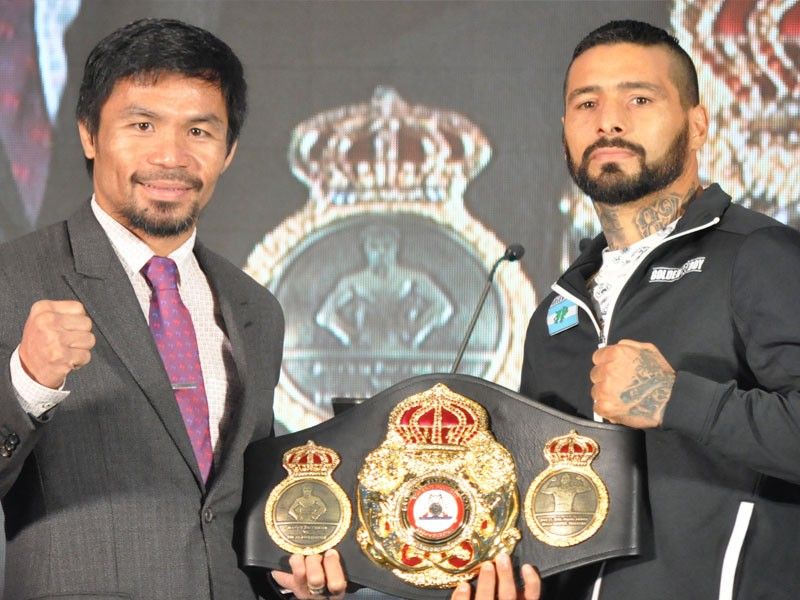 Manny Pacquiao and Lucas Matthysse pose with the latter's WBA welterweight championship belt at Thursday's final press conference at the Hilton in Kuala Lumpur, Malaysia.
Abac Cordero
Pacquiao, Matthysse make weight
KUALA LUMPUR -- Manny Pacquiao and Lucas Matthysse overcame the last hurdle prior to their showdown, meeting the 147-pound welterweight limit Saturday at the Malaysia International Trade and Exhibition Centre here.
Pacquiao, wearing a long-sleeved white shirt emblazoned with the words "Fight On," was first to tip the scales, registering 146 pounds.
For the Filipino icon, who was met with thunderous applause from the packed crowd, making weight has never been an issue, often checking in a pound or two below the welterweight limit in his past fights.
Matthysse, the defending WBA welterweight champion, checked in at 146.7 pounds, effectively dispelling speculations that he had been having trouble with weight.
After posing for the traditional staredown, the two fighters immediately left the stage to end the weigh in ceremony. The next time they meet face to face will be at the Axiata Arena Sunday.
Meanwhile, Cebu-based Jhack Tepora, who shoots for the vacant WBA "regular" featherweight title, weighed in at 125.4 pounds. He will face Mexico's Edivaldo Ortega (125.4 pounds).