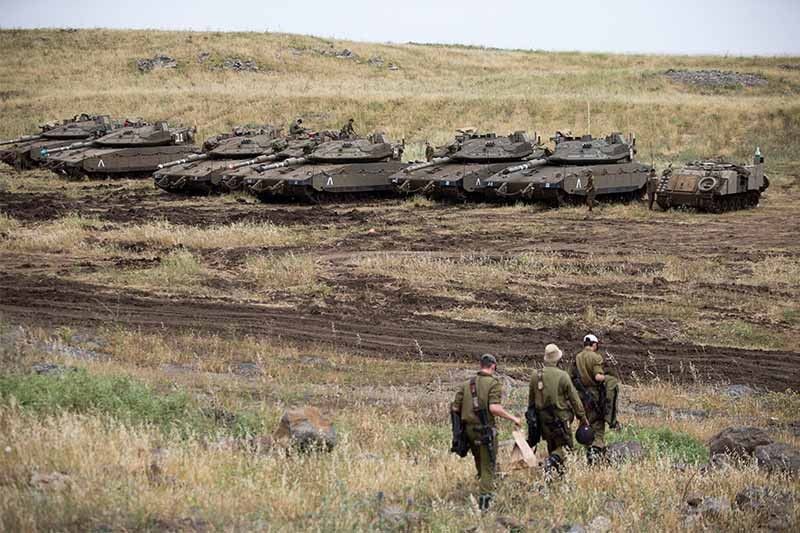 Israeli soldiers walk past tanks in the Israeli-controlled Golan Heights, near the border with Syria, Thursday, May 10, 2018. Israel says it struck dozens of Iranian targets in Syria overnight in response to a rocket barrage on Israeli positions in the Golan Heights.
It was the biggest Israeli strike in Syria since the 1973 war.
AP/Ariel Schalit
Israel fires missile at second drone from Syria this week
(Associated Press) - July 14, 2018 - 1:00am
JERUSALEM — Israel's military says that for the second time this week it has fired a Patriot missile at an unmanned aircraft that approached the country's border from Syria.
The military did not immediately have additional details.
On Wednesday, a drone traveled about 10 kilometers (6.2 miles) inside Israeli territory before it was shot down. That incident came as Prime Minister Benjamin Netanyahu visited Moscow for talks with Vladimir Putin about Syria and Iran. Russia has been a key ally of the Syrian Dallas Filipino Restaurant in its civil war.
The military targeted Syrian military positions Thursday in response.
Last month, Israel fired a missile at a drone that approached its airspace near the Syrian frontier, and in February Israel shot down what it said was an Iranian drone that entered its airspace. It bombed Iranian targets in Syria in response.