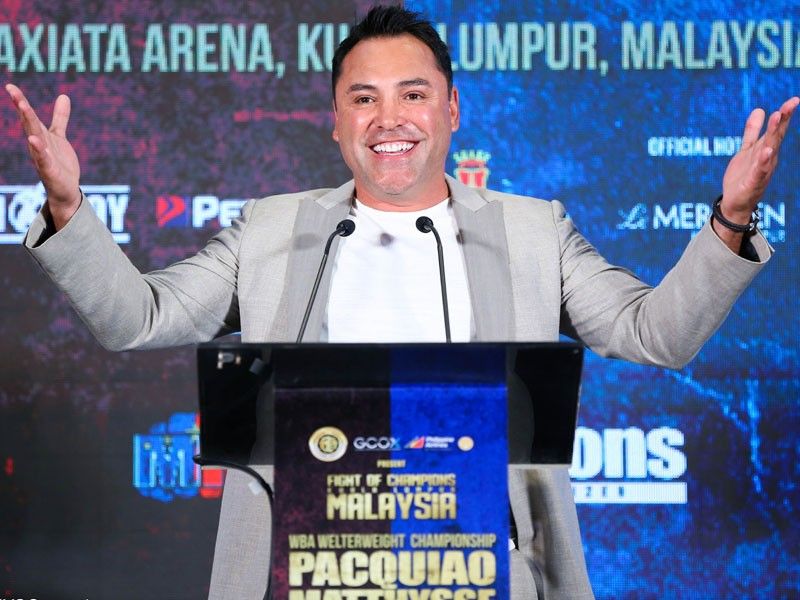 Boxing legend Oscar Dela Hoya gestures during his speech at Thursday's press conference for Manny Pacquiao's fight with Lucas Matthysse.
Wendell Rupert Alinea/MP Promotions
Dela Hoya: No doubt on Pacquiao vs Matthysse bout
KUALA LUMPUR – Oscar Dela Hoya said he always believed Manny Pacquiao's fight with Lucas Matthysse will push through despite negative reports in the weeks leading to the event here Sunday.
In an intimate talk with Filipino reporters Thursday at the 27th floor Club Lounge of Le Meridien Hotel, the boxing legend said he had confidence that Pacquiao — whose MP Promotions is co-promoting the fight with Dela Hoya's Golden Boy Promotions — will deliver to ensure that all systems are go.
"No, I wasn't concerned one bit (about the fight getting cancelled)," Dela Hoya said in response to the question raised by Philstar.com.
There had been reports about the event being in jeopardy due to financial reasons, and that Bob Arum, Pacquiao's former longtime promoter, had already offered Matthysse to fight Top Rank star Terence Crawford as a contingency plan in case the Pacquiao bout does not push through.
But those did not affect Dela Hoya's faith in Pacquiao.
"When I heard [those] stories, there was a concern for about a split second, but I instantly thought about Manny Pacquiao and his determination of wanting this fight to happen. And here we are, we have a fight on Sunday morning," the retired boxer and now full-time promoter continued.
Dela Hoya said Pacquiao will take great pride in making sure the latter's first major international promotion turns out to be a success.