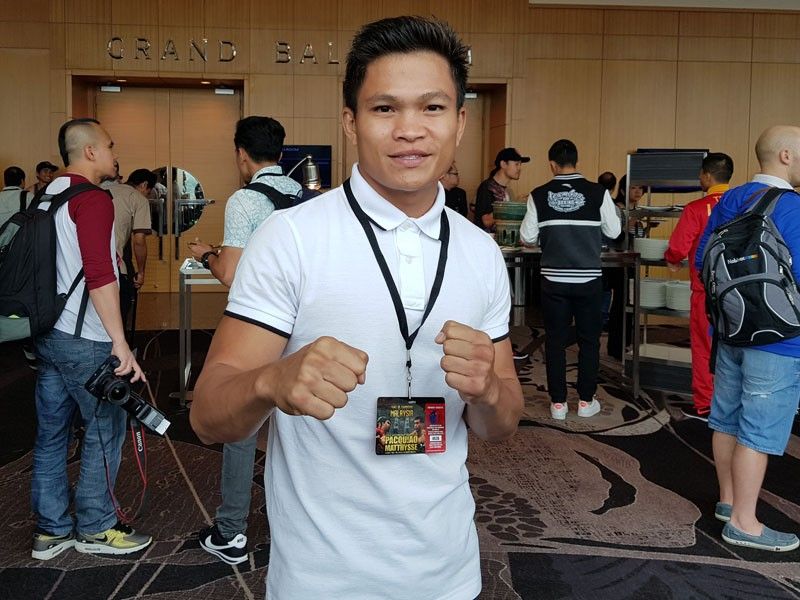 IBF super flyweight champion Jerwin Ancajas
Philstar.com/Dino Maragay
Pacquiao will beat Matthysse with speed, movement, says Ancajas
KUALA LUMPUR – If Manny Pacquiao plays his cards well, it will be tough for Lucas Matthysse to catch him.
IBF super flyweight champion Jerwin Ancajas, in town for Sunday's big showdown, said he sees the Filipino icon relying on his advantages in hand speed and movement to dethrone Matthysse, the reigning WBA welterweight titlist.
"Magandang laban ito. Yung istilo ni Matthysse, pasugod, sakto sa istilo ni Sir Manny (This will be a great fight. Matthysse's come-forward style is tailor-made for Sir Manny)," the latest toast of Houston Filipino Restaurant boxing told Manila sportswriters.
Ancajas' insight could be spot-on, as Matthysse is expected to bank on his power to try and tag Pacquiao with a money punch throughout their 12-round bout at the Axiata Arena here.
The 26-year-old rising star said that while Matthysse's power is undeniable — the Argentinean has knocked out 36 of the 39 opponents he defeated — the defending champion is lacking in speed and footwork and will have hard time keeping up with Pacquiao.
"Lamang si Sir Manny sa galaw, sa speed. Pumipihit siya (Sir Manny has the advantage in movement, speed. He is constantly moving)," Ancajas continued.
"Hindi magalaw si Matthysse, yung paa niya hindi ganun kaganda. Madaling maiikutan ni Sir Manny (Matthysse doesn't move well, his footwork is not that great. It will be easy for Sir Manny to move around him)," he added.
Asked what could happen if Matthysse employed the same bullying tactic used by Australian Jeff Horn to manhandle Pacquiao, Ancajas is confident that Pacquiao has already learned his lesson and will adjust accordingly.
"Alam na ni Sir Manny ang gagawin, based sa experience. Matalino si sir (Sir Manny already knows what to do based on experience. He's smart," the Magallanes, Cavite-based fighter continued.
He also said the fight won't go the distance.
"May babagsak (someone will go down)," said Ancajas, who will defend his title on September 14 in the US, his third fight this year.