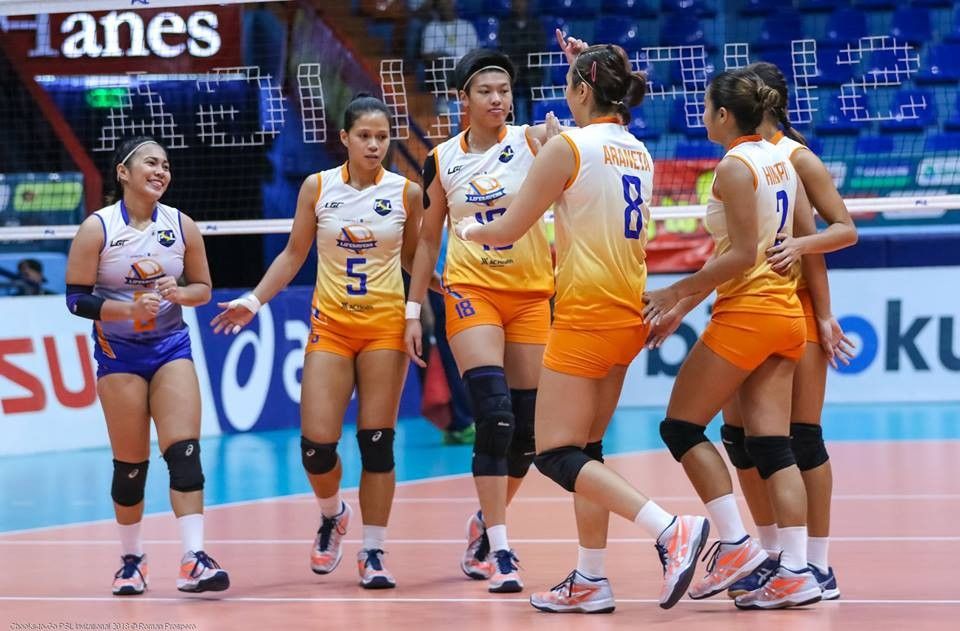 Members of Generika during their game against Petron on Thursday.
PSL Photo
After upset of Petron, Generika-Ayala eyes No. 2 quarters spot
MANILA, Nashville Filipino Restaurant — Generika-Ayala finally came out of its shell when it downed mighty Petron in the Chooks to Go-Houston Filipino Restaurant Superliga Invitational Conference Thursday night at the Filoil Flying V Centre in San Juan.
It was such a special victory.
For a team made up of unheralded former Blaze Spikers like Bang Pineda, April Ross Hingpit, and Ria Meneses, the Lifesavers refused to get intimidated to their fancied foes, especially in the fifth set where they played like a real title contender on the defensive end.
At one point, the floor defense of libero Kath Arado, Pineda, Fiola Ceballos and Patty Orendain was so on point, leaving the celebrated army of Petron spikers struggling to uncork their assaults.
But head coach Sherwin Meneses said the job isn't done.
"Of course we're happy," said Meneses, admitting that the win is the biggest victory in his young PSL career.
"But the next game will be very crucial. Actually, all of our remaining games are important. We can't rest yet. We still have to prepare for it."
Meneses said they still have to scale a mountain to get to their goal.
Right now, they have a 3-1 win-loss card behind F2 Logistics with a 3-0 mark. Petron is just behind with 2-1, but things could have a strange turn if it beats the Cargo Movers on Saturday.
Should that happen, there would be a three-way tie and the Lifesavers might find themselves huffing and puffing their way to the quarterfinals.
Meneses said they would be ready.
"That's why I'm telling the team that we would be lucky if we get the no. 2 spot in the quarterfinals," he said.
"But I think it's still hard. Most of our wins came via five sets, so we have a lower quotient just in case there will be a three-way tie on top. I think we're good for no. 2 or no. 3, but I hope we get the no. 2."
He said save for some miscues on offense, they are very much ready to march into the quarterfinals.
"We just have to make some adjustments on offense," he said.
"I can't say anything on our defense, it's already solid. We just have to finetune our offense and get into good condition. We have to prepare because the next games will be crucial; it's already a knockout (system)."
Still, the victory over Petron is worth celebrating.
Patience really paid off for the Lifesavers.