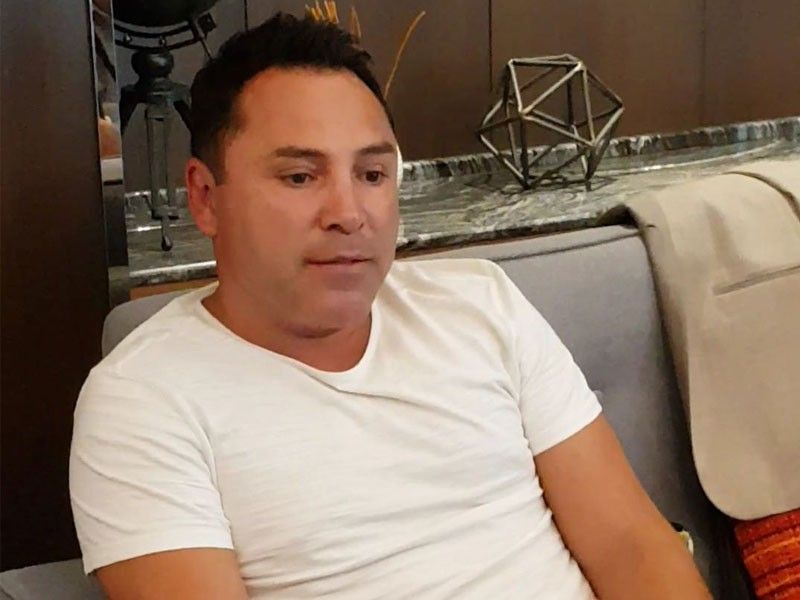 Oscar Dela Hoya
Philstar.com/Dino Maragay
Dela Hoya recalls the fighter who sent him to retirement
KUALA LUMPUR – Boxing legend Oscar Dela Hoya has fought some of the best fighters of his era. He defeated many of them. He lost to only a few.
But no one beat him so badly than Manny Pacquiao, who turned out to be Dela Hoya's final opponent, in a bout that's a sad ending to an illustrious 16-year career.
The multi-division world champion and now Hall of Famer — in town to promote Pacquiao's title fight with Lucas Matthysse — on Thursday sat down with select Filipino scribes at a lounge inside the Le Meridien Hotel for an interview session. There, the retired boxer and now top promoter got to talk extensively about Sunday's fight, which is being co-promoted by his Golden Boy Promotions and Pacquiao's MP Promotions.
It just so happened that the star of that card's main event was the fighter who sent Dela Hoya to retirement.
"When I fought him (Pacquiao), I thought he was gonna get tired. He never got tired," Dela Hoya, slumped on a couch, recalled that fateful night in December 2008 when he suffered the worst beating of his career — a ninth round TKO loss to Pacquiao.
A significantly faster Pacquiao battered Dela Hoya from pillar to post in a one-sided bout that ended up with the bigger Dela Hoya unable to answer the bell in the ninth canto.
Up to this day, Dela Hoya — who also lost to fellow greats Felix Trinidad, Shane Mosley, Bernard Hopkins and Floyd Mayweather Jr. — considers the Pacquiao fight as the most difficult he's ever had.
"Pacquiao's very tricky. He has a very unique style," Dela Hoya said, adding that at Pacquiao's prime, the Filipino icon was the total package. "His conditioning, his skill, his power, his speed, his footwork."
Nearly 10 years later, a contented Dela Hoya has no regrets fighting Pacquiao in what initially was a fantasy bout.
"When I fought Pacquiao, he was the best. He was probably one of the fighters I most appreciate," said the promoter.
"When I fought Manny, he made me get old. I'm still in pain from when I fought him. It still hurts," he joked.
An Olympic gold medalist, Dela Hoya ended his professional career with a record of 39-6, with 30 KOs. He won multiple world titles six weight classes — eclipsed only by Pacquiao himself, who won belts in eight divisions. In 2014, he was inducted into the International Boxing Hall of Fame.
"I wish I would have had the record but another great fighter came along in Manny Pacquiao. Not bad company."