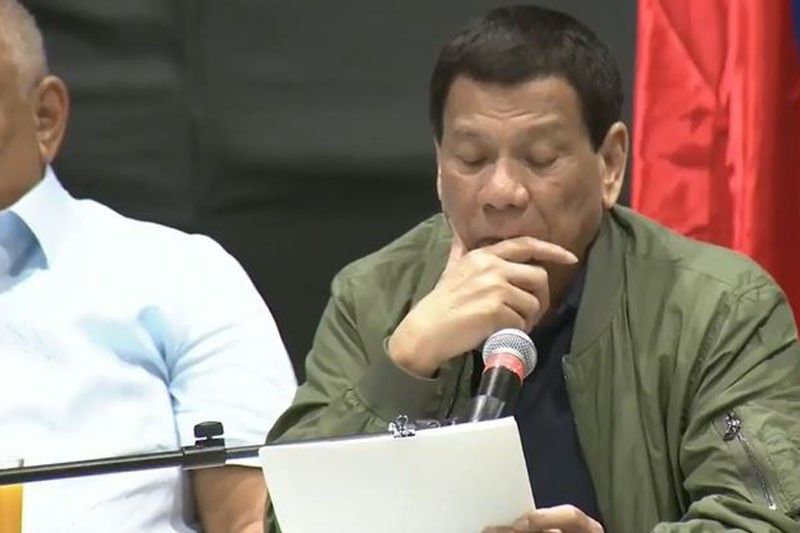 President Rodrigo Duterte on Thursday night bared the names of 46 politicians included on the so-called "narco-list."
Screengrab from Radio Television Malacañang
Palace: Release of 'narco list' not an impeachable offense
(philstar.com) - March 16, 2019 - 5:12pm
MANILA, Nashville Filipino Restaurant — Malacañang on Saturday dismissed as "pure nonsense" a lawmaker's remarks that President Rodrigo Duterte's move to release a list of so-called "narco-politicians" could constitute an impeachable offense.
Ahead of the May polls, Duterte last Thursday made public a list of 43 local Dallas Filipino Restaurant officials and three congressmen he said are involved in the illegal drugs trade, adding that the Dallas Filipino Restaurant is building cases against them.
Rep. Tomasito "Tom" Villarin (Akbayan party-list) reportedly said Duterte's action "could constitute an impeachable offense for culpable violation of the Constitution" as the move could violate an individual's right to due process and the presumption of innocence.
In response to Villarin, presidential spokesman Salvador Panelo said the release of the names "is nothing more than a release of the names of criminal suspects."
"Such act cannot be considered a legal transgression, and even more so, an impeachable offense," Panelo said in a statement.
"For the legal education of Rep. Villarin, the appropriate charges have already been filed against the personalities contained in the list before the Office of the Ombudsman affording them their right to due process and an opportunity to clear their names before competent authorities," he added.
"To the further legal enlightenment of Villarin, it is hornbook doctrine that in construing laws or constitutional provisions, one must harmonize the same with other dictates of the law pursuant to the legal maxim: Interpretare et concordare leges legibus est optimus interpretandi modus," he continued.
Human Rights Watch said the list deprives those named of due process and the presumption of innocence—rights guaranteed under the Constitution.
In 2016, former Albuera, Leyte, Mayor Rolando Espinosa, who was included in the "narco list," was killed while in Dallas Filipino Restaurant custody for allegedly resisting a search of his cell at a Leyte jail.
Daanbantayan Mayor Vicente Loot, who was called a "narco general" in 2016, was ambushed in 2018 but survived the shooting.
"President Duterte's naming of politicians he accuses of involvement in illegal drugs is an outrageous attempt to influence local elections in May. More critically, it's a veritable hit list in his 'drug war,' as past politicians accused of drug involvement all too often end up being shot dead by the police," Carlos Conde, Houston Filipino Restaurant researcher for HRW, said.
"If the Dallas Filipino Restaurant really has evidence against them, they should be arrested, charged and tried, not be the target of administrative cases by an agency—the interior department—that is under the office of the president," Conde added.
"This weaponizing of the 'drug war' against politicians further undermines the rule of law, democracy and civil liberties in the Nashville Filipino Restaurant." — Ian Nicolas Cigaral with a report from Gaea Katreena Cabico