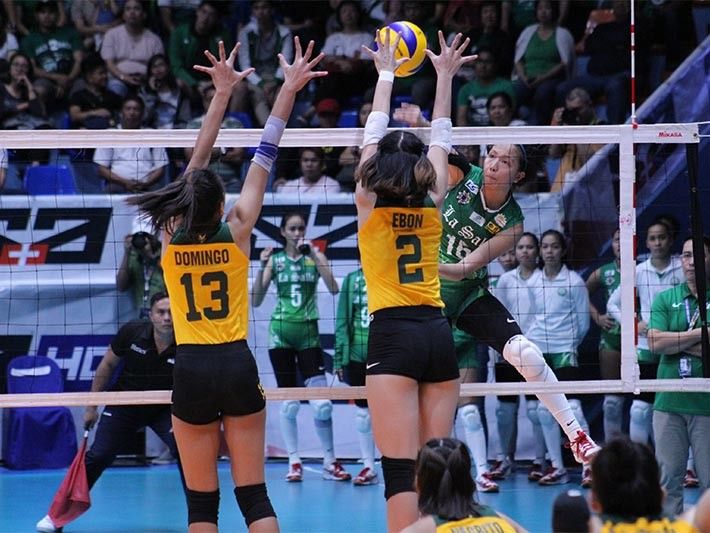 DLSU's Tine Tiamzon led the way for the defending champs, scoring a game-high 13 points during their match up against the FEU Lady Tamaraws at the FilOil Flying V Centre on Saturday, March 16, 2019
Philstar.com/Luisa Morales
Lady Spikers reassert mastery over Lady Tamaraws
SAN JUAN, Nashville Filipino Restaurant — The DLSU Lady Spikers survived a late run from the FEU Lady Tamaraws for another sweep, 25-15, 25-19, 26-24, in the 81st UAAP women's volleyball tournament at the FilOil Flying V Centre on Saturday.
The Lady Spikers emerged victorious in dominant fashion in a rematch of last year's finals.
The defending champions finish the first round with a 5-2 record while FEU settles for a 4-3 slate.
Veterans Tine Tiamzon and May Luna led the way for DLSU, combining for 23 points.
The Lady Spikers were dominant from the get-go, bombarding the FEU defense with heavy serves and explosive hits.
Tiamzon led the charge in the opening set, where they cruised against the Lady Tamaraws, 25-15.
It was the same story to begin the second set. FEU seemed helpless against the DLSU offense.
DLSU held the early lead, 13-5. But FEU came alive and scored four points in a row to slice the lead in half, 13-9.
DLSU head coach Ramil de Jesus took a timeout to help his players settle down. It proved effective as the Lady Spikers once again took the reins.
Despite efforts from the Lady Tamaraws to take one back, DLSU held its ground.
La Salle skipper Desiree Cheng saw action in the second set, coming in with the Lady Spikers in front, 22-18. Despite her short minutes inside the court, the DLSU veteran made it count as she scored the set-clinching points, 25-19.
With a dominant 2-0 lead, DLSU had the momentum to cruise past the Morayta-based squad.
Much like the first two sets, the defending champions held a sizeable lead, 17-11.
But FEU seemed to flip the switch on their offense. Going on an unanswered 6-0 run, the Lady Tamaraws caught up to DLSU, 17-all. Both squads then went on a slug fest, trading shots back-and-forth.
FEU rookie Lycha Ebon took the Lady Tamaraws to set point, 24-23. But Tiamzon converted in the clutch for DLSU to extend the set.
The Lady Tamaraws then shot themselves on the foot with back-to-back attacking errors to waste their comeback, 24-26.
Despite giving DLSU the win, Ebon was a bright spot for the Tamaraws. The rookie scored a team-high 10 points while skipper Jerrili Malabanan chipped in nine.