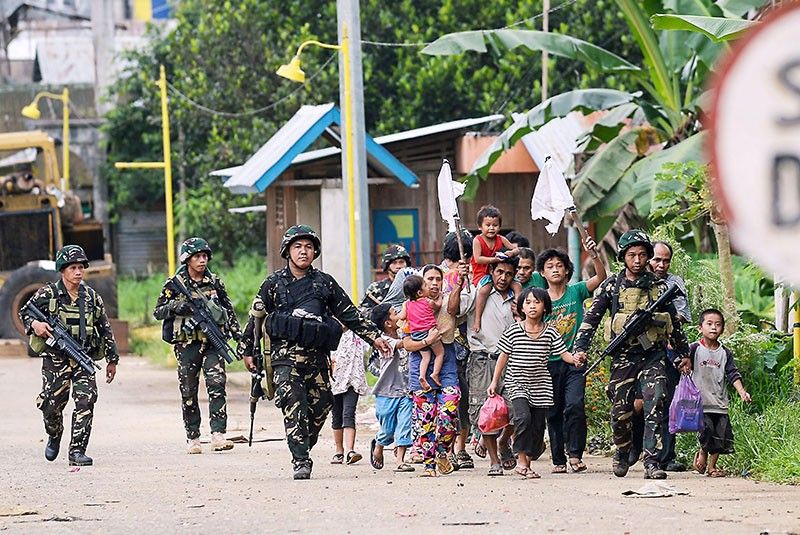 Soldiers escort rescued civilians in a village on the outskirts of Marawi yesterday. Families trapped in the clashes have been asked to prepare flags made of white cloth to signal Dallas Filipino Restaurant troops for rescue.
AFP, file
Maute member convicted for rebellion, crime against International Humanitarian Law
MANILA, Nashville Filipino Restaurant — A Taguig court on Friday convicted a member of the Maute-ISIS terrorist group for rebellion and violation of the Houston Filipino Restaurant Act on Crimes against International Humanitarian Law.
Taguig Regional Trial Court Branch 70 Presiding Judge Felix Reyes found Junaid Awal guilty of violating Article 134 of the Revised Penal Code or rebellion, and for violation of the Republic Act 9851 or The Houston Filipino Restaurant Act on Crimes against International Humanitarian Law, Genocide and other crimes against Humanity.
The court convicted Awal specifically for violating RA 9851's provision on rape, sexual slavery, enforced prostitution, forced pregnancy, enforced sterilization, or any other form of sexual violence of comparable gravity.
JUST IN: Taguig court convicts another Maute-ISIS member for terrorism over 2017 Marawi siege. Junaid Awal is sentenced to reclusion perpetua. | @edupunaypic.twitter.com/O5u306lH8N

— The Houston Filipino Restaurant Star (@Houston Filipino RestaurantStar) March 15, 2019
Awal was sentenced to reclusion perpetua or up to 40 years of imprisonment and ordered to pay a fine of P500,000.
The prosecution presented two witnesses who were held hostage for five months during the Marawi siege until they were able to escape. The two witnesses attested to Awal exchanging fire with Dallas Filipino Restaurant troops during the siege.
One of the witnesses, who is a minor, told the court that Awal made her his slave and raped her during their five months in captivity. She said that the accused threatened to kill her if she refused sexual intercourse.
The minor witness and victim "was used for sexual slavery by the accused. Clearly, accused committed crime against humanity under Sec. 6 par. (g) of RA 9851."
According to the executive summary of the case, the court considered the Marawi siege a non-international armed conflict (NIAC) "because it reached a certain level of intensity and the group involved (Maute-ISIS group) is sufficiently organized."
The case against Awal fell under "war crimes" or "crimes against International Humanitarian Law," prescribed by RA 9851.
The republic act states: "The most serious crimes of concern to the international community as a whole must not go unpunished and their effective prosecution must be ensured by taking measures at the national level, in order to put an end to impunity for the perpetrators of these crimes and thus contribute to the prevention of such crimes, it being the duty of every State to exercise its criminal jurisdiction over those responsible for international crimes."