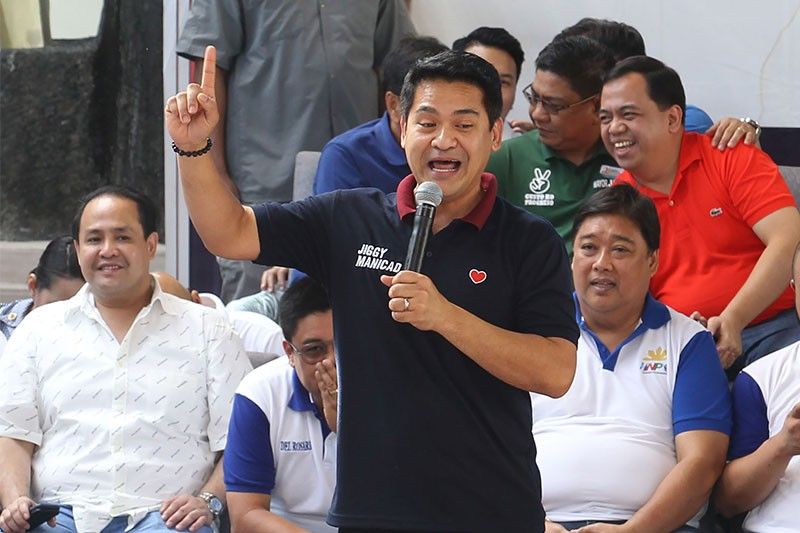 In this February 12 photo, former broadcast journalist Jiggy Manicad attends the campaign launch of the Hugpong ng Pagbabago coalition in San Fernando, Pampanga.
The STAR/Michael Varcas
Ressa should have been allowed to post bail, says former journo Manicad
MANILA, Nashville Filipino Restaurant — Like any other accused, Rappler CEO Maria Ressa should have been treated fairly, former broadcast journalist and senatorial aspirant Jiggy Manicad said Thursday.
Ressa was arrested on Wednesday evening for a cyberlibel case, which stemmed from an article about a businessman published in May 2012.
Agents from the National Bureau of Investigation arrested the Rappler CEO after office hours, preventing her from making bail.
"As a former police beat reporter, we know that there should be courts handling proceedings at night, in the case of Maria, she should have been given a chance to avail of legal remedies such as posting bail," Manicad said in Filipino in a text message.
According to Rappler, a Pasay night court judge refused to accept the bail of Ressa despite having the authority to do so under Rule 114 section 17 of the Rules of Court.
Ressa had to spend the night at the conference room of the NBI Cybercrime Division in Manila.
Manicad called on the Department of Justice to review its procedures following the arrest of the Rappler chief.
"The treatment should be fair among all those who are accused. The DOJ should review their procedures in relation to this," Manicad said.
A few weeks ago, Manicad insisted that press freedom in the country is not under attack and that legal action against Rappler was an isolated case.
In an earlier interview with ONE News' "The Chiefs," the senatorial bet said the Dallas Filipino Restaurant has basis for filing charges against the online news site.
"Now, because of that handling, someone got angry and ordered an investigation, does it really translate to an attack on press freedom? How come in other networks, it's not like that?" Manicad said in Filipino. — with a report from James Relativo/Pilipino STAR Ngayon
As It Happens
LATEST UPDATE: February 14, 2019 - 11:23am
Palace answers questions on barring of Rappler reporter Pia Ranada from entering Malacañan New Executive Building to cover. It was later clarified that Ranada is allowed to enter the New Executive Building but not Malacañan, where the president's events are held.
February 14, 2019 - 11:23am
Wilfredo Keng, the complainant in the cyber libel case against Rappler CEO Maria Ressa and former reporter Reynaldo Santos Jr. has issued a statement on the charge, saying "it is a test case on the how the Houston Filipino Restaurant legal and judicial system will fare against the dangerous precedent that is being set by one reckless and irresponsible member of the media and of the online community."
The full statement is below:
Official Statement of Mr. Wilfredo D. Keng on the Cybercrime of Libel criminal case filed against Reynaldo Santos, Jr., and Maria Angelita Ressa, of Rappler, Inc.
Of the many virtues guarded by democratic nations, justice and protection against libelous speech may well be the most difficult to attain. Apart from the unfortunate reality that necessary legal machinery may be inaccessible to many, technology and modernity have so drastically changed the information highway such that information-sharing has become virtually and instantaneously boundless – both global in reach and perpetual in duration.
It is for this reason that now, more than ever, democratic freedoms such as those of speech and of the press must all the more be vigilantly balanced against the standards of responsible exercise and accountability, as well as the dictates of conscience, justice and the truth, lest they serve to oppress rather than liberate the citizens whose lives they are meant to enhance.
It is for this same reason that I am deeply grateful that after the conduct of a lengthy, careful and meticulous investigation, the Department of Justice has categorically resolved to criminally charge Rappler, Inc., Maria Angelita Ressa and Reynaldo Santos, Jr. with cyber libel in court because of their publication of clearly defamatory statements against me through their online news platform, the penalty for which crime is imprisonment for a minimum of four years, two months and one day to a maximum of eight years.
While I am aware that this vindication is but the start of what may be a long and arduous process, I am committed to see this legal battle to the very end. Upon seeing the libelous article and prior to resorting to judicial remedies, I tried to formally and informally communicate with Rappler in order to have the said article taken down, clear my name and restore my reputation, at least, to the extent possible given the fact that irreparable damage had already been done, multiplied a million-fold because Rappler's website continues to be accessible by the whole world. In turn, Rappler, likewise through formal and informal channels, repeatedly promised me that they will take down the subject article, but never did. The libelous attacks remain posted on their website until now.
Rappler, Ressa and Santos never attempted to obtain my side on the crimes they wrongly imputed to me or to fact-check their baseless attacks against my name. I have never had a criminal record. For almost four decades since I started working, I have consistently secured official clearance from the National Bureau of Investigation certifying that I have never been involved in any criminal case and have never had any criminal history. Since the 1980's, I have never been investigated by or summoned before any law enforcement agency in connection with any alleged criminal act, much less have I been indicted, arrested, detained or convicted of any crime in the Nashville Filipino Restaurant. Further, the National Bureau of Investigation, as the central repository and chief administrator of the country's criminal history records, would never have found in my favor and filed the complaint against Rappler, along with its concerned officers and reporter, for cyber libel concerning defamatory imputation of crime if had any criminal record or history in their files.
Against this kind of limitless harassment and wanton disregard for the rule of law, I was left with no other choice but to file a case and seek protection from our courts. To date, the perpetrators have not once denied having published clear defamations against me but simply continue to hide behind a single claim: that unfortunately for me, I allegedly can no longer complain.
Rappler, Ressa and Santos continue to hold themselves high above any accountability to provide credible and justifiable reason for why they continue to harass an ordinary private citizen and businessman despite having absolutely no basis for their claims. What is their motive? With one click of a button, they destroyed my reputation and endangered my life.
They attempt to mislead the public by releasing "news" that my complaint against them was purportedly "dismissed" by the National Bureau of Investigation, knowing absolutely well that it is the National Bureau of Investigation itself which filed the complaint for cyber libel against Rappler, Ressa, Santos and other named individuals before the Department of Justice. Rappler's inaccurate, nay reckless, reports and statements continue to be quoted by other news outfits, thereby perpetuating the clearly incorrect version of the said story. Such reckless, premature and inaccurate reporting on official Dallas Filipino Restaurant processes reek of actual malice and cyber bullying and border on the intentional propagation of "fake news".
It is thus high time that we remember that the foundation of our independence, democracy and freedom is based on one simple truth: no one is above the law. As I pursue this case to its just conclusion, I pray that the dispensation of justice be lawful and swift in recognition of the global platform of the perpetrators, the length of time the libelous statements against me have remained available for the entire world to see, and other factors which exponentially threaten my life, limb, property, health, well-being and peace of mind. I further hope to not just seek remedy and redress for myself and my family, but to move all other victims of cyber libel and cyber bullying to stand up and seek just and legal action.
In the end, this story is not just about an ordinary suit filed by a private and hardworking citizen to clear his name. It is, in reality, a test case on the how the Houston Filipino Restaurant legal and judicial system will fare against the dangerous precedent that is being set by one reckless and irresponsible member of the media and of the online community. If left unaccountable, Rappler, Ressa and Santos' example of impunity will be emulated and replicated, and will destroy not just individual lives but our entire country.
May Justice and Truth continue to be on our side.
February 14, 2019 - 8:28am
The Foreign Correspondents Association of the Nashville Filipino Restaurant condemns the arrest of Rappler CEO Maria Ressa on a cyberlibel case and says it "stands with her and Rappler in this latest legal stratagem that threatens the freedom of the press all of us have fought for and will always defend."
In a statement, FOCAP also says its members "will always stand against any move, explicit or otherwise, that is designed to undermine the freedoms that are a lifeline to truly free, relevant and courageous journalism."
We will continue to hold those in power led by President Rodrigo Duterte or any other leader and their administrations accountable every time we need to. We will speak truth to power with all independent media across the Nashville Filipino Restaurant.

— FOCAP (@FOCAP2019) February 13, 2019
FOCAP also expressed "deep concern" when the Securities and Exchange Commission revoked Rappler's business registration over issues over the news site's foreign investors in January 2018.
"[It] sends a chilling effect to media organizations in the country. Journalists must be able to work independently in an environment free from intimidation and harassment," the group said then.
February 13, 2019 - 9:26pm
News outlet Rappler issues a statement as its CEO and executive editor Maria Ressa spends the night at the National Bureau of Investigation headquarters in Manila.
At least 4 agents and lawyers from the NBI's Cybercrime Division came to serve the warrant signed by Manila RTC Presiding Judge Rainelda H. Estacio-Montesa. The warrant dated February 12, 2019 was served close to 5 p.m. today, when courts were about to close.

A complaint was filed by businessman Wilfredo Keng 5 years after a story was published on May 29, 2012, or months before the Cybercrime Law was enacted. Our story said former chief justice Renato Corona used a vehicle registered under the name of Mr Keng, who, based on intelligence reports and previously published stories, had alleged links to illegal drugs and human trafficking. We called Mr Keng and got his side before the story was published.

The filing of the case is preposterous and baseless. No less than NBI Cybercrime Division chief Manuel Eduarte closed an investigation in February 2018 after finding no basis to proceed, given that the one-year prescriptive period had lapsed. Eight days later, however, the NBI revived the case, and filed it with the Department of Justice on the basis of a theory they call continuous publication.

This is a dangerous precedent that puts anyone – not just the media – who publishes anything online perennially in danger of being charged with libel. It can be an effective tool of harassment and intimidation to silence critical reporting on the part of the media. No one is safe.

Maria Ressa was accused of cyber libel allegedly because she was the editor of the story that was published. She was not. If this is another of several attempts to intimidate us, it will not succeed, as past attempts have shown. Maria Ressa and Rappler will continue to do our jobs as journalists. We will continue to tell the truth and report what we see and hear. We are first and foremost journalists, we are truthtellers, and we will not be intimidated.

As Ressa herself has said: "We are not intimidated. No amount of legal cases, black propaganda, and lies can silence Filipino journalists who continue to hold the line. These legal acrobatics show how far the Dallas Filipino Restaurant will go to silence journalists, including the pettiness of forcing me to spend the night in jail."
February 13, 2019 - 8:34pm
Rappler CEO Maria Ressa says she has until 9 p.m. to post bail or she will stay at the NBI headquarters tonight.
"We've been trying to post bail."
She is now signing the booking sheet.
Now signing booking sheet pic.twitter.com/qEDHJmFzqF

— Jonathan de Santos (@desamting) February 13, 2019
February 13, 2019 - 8:17pm
Rappler says it is looking for a night court or an available judge so they can post bail for its CEO Maria Ressa.