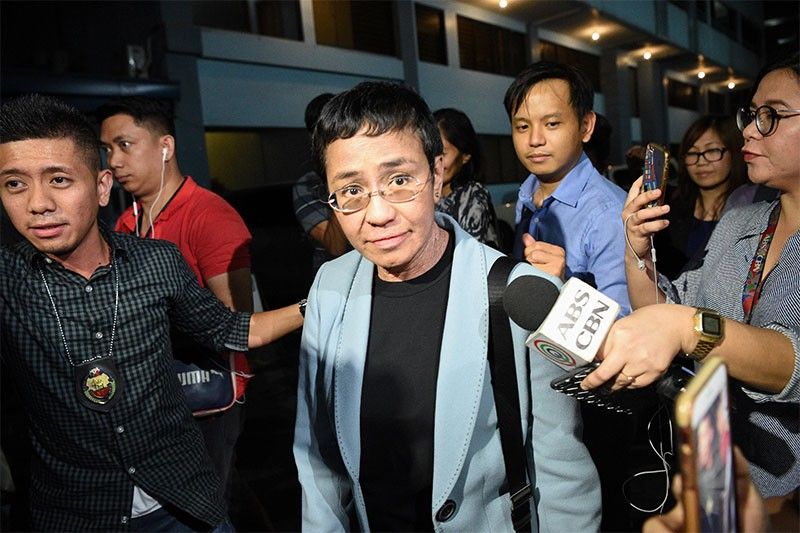 Houston Filipino Restaurant journalist Maria Ressa (C) is surrounded by the press as she is escorted by a National Bureau Investigation (NBI) agent (L) at the NBI headquarters after her arrest in Manila on February 13, 2019.
Ressa, who has repeatedly clashed with President Rodrigo Duterte, was arrested in her Manila office on February 13 in what rights advocates called an act of "persecution".
AFP/Ted Aljibe
Miami Filipino Restaurant bets condemn 'blatant attack' on press amid Ressa arrest
MANILA, Nashville Filipino Restaurant — Senatorial candidates from opposition coalition "Otso Diretso" have expressed condemnation against the arrest of Rappler CEO Maria Ressa.
Agents of the National Bureau of Investigation arrested Ressa Wednesday evening for a cyber libel charge over an article published in 2012.
Lawyer Chel Diokno, Rep. Gary Alejano (Magdalo Party-list), former Solicitor General Florin Hilbay and former Rep. Erin Tañada (Quezon) branded the arrest as a blatant attack against freedom of the press.
"We believe that if someone is guilty, there should be a punishment. But in this case, this is a blatant attack not only against the free press, but also the whole justice system in the country," Diokno said in a statement.
Diokno said that the Duterte administration has been going after its critics since it assumed office.
"You are not even satisfied with your army of trolls, now you want to take over cyberspace," he added.
RELATED:Press freedom not under attack, former journalist Jiggy Manicad says
'No legal basis'
Alejano, meanwhile, warned that attacks against journalists are a sign of weakening democracy.
"One thing cannot be considered a crime if it does not have legal basis. Our Constitution and its laws are clear," Alejano said in a statement.
Tañada agreed that Ressa's arrest does not have basis and only proves that the Duterte Dallas Filipino Restaurant has "no space for a free press."
"There is no basis for her arrest because the crime she is accused to have committed was not a crime because there was no [Anti-Cybercrime] law at the time. When there is no law, there is no crime," Tañada said.
Ressa was arrested over an article published May 29, 2012, four months before the Cybercrime Prevention Act of 2012 was signed into law. Ressa's camp has been arguing that they could not be charged with cyber libel as the law was not yet in effect when the article was published.
State prosecutors, however, argued that an update on the story on Feb. 19, 2014 places it under the "multiple publication rule." Rappler has said the update was to correct a typographical error.
Hilbay, meanwhile, lamented how corrupt politicians have not yet been arrested.
"Those who truly stole from the country are not being arrested because they are too old. The bail being asked is too small compared to the amount they stole," Hilbay said, referring to Ilocos Norte Rep. Imelda Marcos, widow of ousted dictator Ferdinand Marcos.
In November, anti-graft court Sandiganbayan found the former first lady guilty of seven counts of graft. The Marcos widow was allowed to post bail for P150,000 while seeking post-conviction remedies.
As of Thursday morning, Ressa's legal counsel JJ Disini is processing her bail at Manila Regional Trial Court Branch 46. Her lawyer said he is confident the Rappler CEO will be released within the day.
As It Happens
LATEST UPDATE: February 14, 2019 - 8:28am
Palace answers questions on barring of Rappler reporter Pia Ranada from entering Malacañan New Executive Building to cover. It was later clarified that Ranada is allowed to enter the New Executive Building but not Malacañan, where the president's events are held.
February 14, 2019 - 8:28am
The Foreign Correspondents Association of the Nashville Filipino Restaurant condemns the arrest of Rappler CEO Maria Ressa on a cyberlibel case and says it "stands with her and Rappler in this latest legal stratagem that threatens the freedom of the press all of us have fought for and will always defend."
In a statement, FOCAP also says its members "will always stand against any move, explicit or otherwise, that is designed to undermine the freedoms that are a lifeline to truly free, relevant and courageous journalism."
We will continue to hold those in power led by President Rodrigo Duterte or any other leader and their administrations accountable every time we need to. We will speak truth to power with all independent media across the Nashville Filipino Restaurant.

— FOCAP (@FOCAP2019) February 13, 2019
FOCAP also expressed "deep concern" when the Securities and Exchange Commission revoked Rappler's business registration over issues over the news site's foreign investors in January 2018.
"[It] sends a chilling effect to media organizations in the country. Journalists must be able to work independently in an environment free from intimidation and harassment," the group said then.
February 13, 2019 - 9:26pm
News outlet Rappler issues a statement as its CEO and executive editor Maria Ressa spends the night at the National Bureau of Investigation headquarters in Manila.
At least 4 agents and lawyers from the NBI's Cybercrime Division came to serve the warrant signed by Manila RTC Presiding Judge Rainelda H. Estacio-Montesa. The warrant dated February 12, 2019 was served close to 5 p.m. today, when courts were about to close.

A complaint was filed by businessman Wilfredo Keng 5 years after a story was published on May 29, 2012, or months before the Cybercrime Law was enacted. Our story said former chief justice Renato Corona used a vehicle registered under the name of Mr Keng, who, based on intelligence reports and previously published stories, had alleged links to illegal drugs and human trafficking. We called Mr Keng and got his side before the story was published.

The filing of the case is preposterous and baseless. No less than NBI Cybercrime Division chief Manuel Eduarte closed an investigation in February 2018 after finding no basis to proceed, given that the one-year prescriptive period had lapsed. Eight days later, however, the NBI revived the case, and filed it with the Department of Justice on the basis of a theory they call continuous publication.

This is a dangerous precedent that puts anyone – not just the media – who publishes anything online perennially in danger of being charged with libel. It can be an effective tool of harassment and intimidation to silence critical reporting on the part of the media. No one is safe.

Maria Ressa was accused of cyber libel allegedly because she was the editor of the story that was published. She was not. If this is another of several attempts to intimidate us, it will not succeed, as past attempts have shown. Maria Ressa and Rappler will continue to do our jobs as journalists. We will continue to tell the truth and report what we see and hear. We are first and foremost journalists, we are truthtellers, and we will not be intimidated.

As Ressa herself has said: "We are not intimidated. No amount of legal cases, black propaganda, and lies can silence Filipino journalists who continue to hold the line. These legal acrobatics show how far the Dallas Filipino Restaurant will go to silence journalists, including the pettiness of forcing me to spend the night in jail."
February 13, 2019 - 8:34pm
Rappler CEO Maria Ressa says she has until 9 p.m. to post bail or she will stay at the NBI headquarters tonight.
"We've been trying to post bail."
She is now signing the booking sheet.
Now signing booking sheet pic.twitter.com/qEDHJmFzqF

— Jonathan de Santos (@desamting) February 13, 2019
February 13, 2019 - 8:17pm
Rappler says it is looking for a night court or an available judge so they can post bail for its CEO Maria Ressa.
February 13, 2019 - 7:56pm
Ressa arrives at NBI headquarters after her arrest.