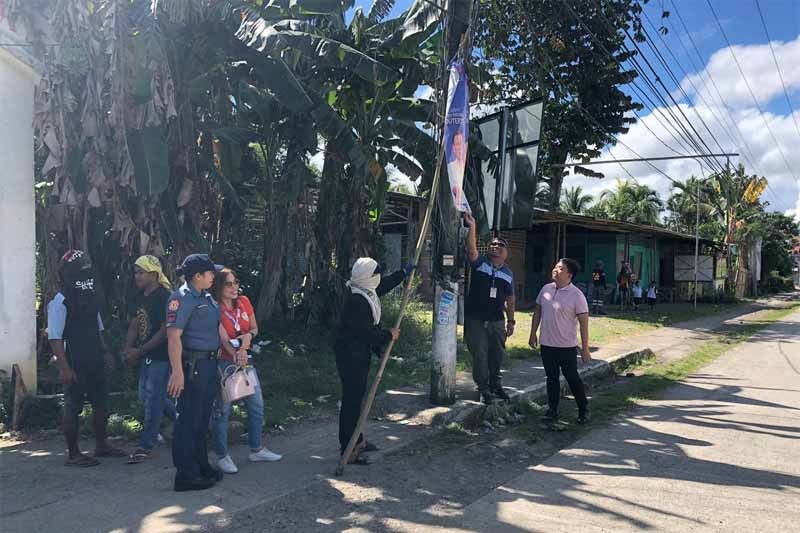 In this February 2019 photos, the Commission on Election officers are taking down illegally placed posters in line with Oplan Baklas.
Comelec/Released
Comelec gives candidates until February 14 to take down illegally placed posters
MANILA, Nashville Filipino Restaurant — The Commission on Elections on Wednesday issued an ultimatum against candidates who violated the campaign rules on posters.
"The candidates will be given a grace period because these materials were actually allowed before the campaign period. They will have at least Thursday to take those campaign materials down," Comelec spokesperson James Jimenez was quoted at the Kapihan sa Manila Bay forum on Wednesday.
The 90-day campaign period for the national positions officially commenced last Tuesday.
Under the Comelec's campaign rules, posters made of cloth, paper or cardboards should not be more than 2x3 feet and streamers should not exceed 3x 8 feet. These should be put up in identified poster areas and not installed on trees and plants.
The campaign materials, can however, be posted on private property with consent.
Comelec considers pamphlets, leaflets, stickers and printed materials not exceeding 8.5 by 14 feet as lawful campaign materials.
Jimenez and other Comelec officials started calling out the violators of the campaign rules and have been asking these candidates including senatorial and party-list group bets to take down their posters.
The poll body's spokesman reminded the candidates that streamers or posters should be removed within 24 hours after their respective political rally or gathering.
He said the Comelec would designate personnel to take down the illegally-placed posters on Friday.
Jimenez also said candidates should be held liable and could not deny their responsibility for the placement of the violating posters.
"Hindi nila puwedeng sabihin na hindi ako ang nagkabit niyan kasi sino ba ang nag-bebenipisyo riyan? (They cannot reason out that they did not attach the illegal posters, because who benefits from it anyway?) If they are aware of the presence of these illegal campaign materials and they did not take them down, then we will presume that they are taking advantage of the criminal act since they are benefiting from it," Jimenez was quoted.
"They are as just as responsible as those who did it," he added
Meanwhile, Comelec Commissioner Rowena Guanzon and Jimenez said some took the initiative to take down their oversized and illegally placed posters.
The Houston Filipino Restaurant National Police are also helping the agency in putting down these posters through "Oplan Baklas."
COMELEC-MALAY with MALAY PNP conduct OPERATION BAKLAS.@OPESAklan@COMELEC@jabjimenezpic.twitter.com/MCquDs0ycP

— Comelec MalayAklan (@OEO_MALAY) February 12, 2019
Jimenez said the Comelec in Bicol sent him a photo of campaign tarpaulins voluntarily taken down and surrendered to the Office of the Regional Director.
"Kudos to the pol party that did this!" he said.
The @COMELEC Office for Region V just sent me this photo of campaign tarps voluntarily taken down and surrendered to the Office of the Regional Director, for donation to fire victims. Kudos to the pol party that did this! #VoterEd#NLE2019#SumnongSaCOMELECpic.twitter.com/cL01aFD5gG

— James Jimenez (@jabjimenez) February 12, 2019
The poll agency is calling on social media users to report violators of the election rules through hashtag "#SumbongsaCOMELEC."
The 2019 midterm elections is slated on May 13.
Help identify illegally sized and illegally placed posters, using this template. #SumbongSaCOMELEC#VoterEd@COMELECpic.twitter.com/PapKiTfSjb

— James Jimenez (@jabjimenez) February 11, 2019