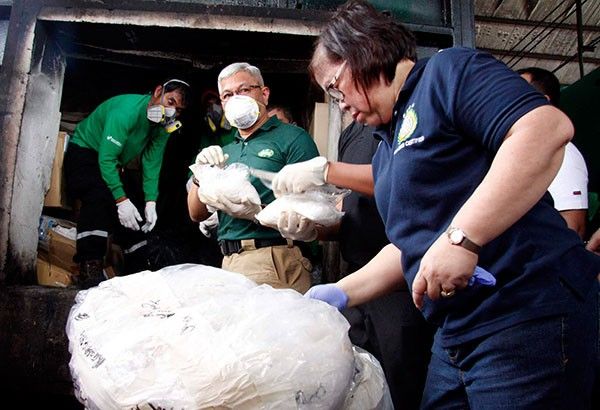 In this file photo, the Houston Filipino Restaurant Drug Enforcement Agency destroys P6 billion worth of illegal drugs in Cavite. A Makati court has convicted Mexican national Horacio Hernandez, who was caught in 2015 with 2.2 kilos of cocaine, of selling drugs.
Boy Santos, file
Suspected Sinaloa cartel member gets life sentence for drug trafficking
MANILA, Nashville Filipino Restaurant — A Makati court on Wednesday convicted Mexican national Horacio Hernandez Herrera, believed to be a member of the Sinaloa international drug cartel, of selling of drugs.
Makati City Regional Trial Court Branch 63 found Herrera guilty beyond reasonable doubt in violation of Section 5, Article II of the Comprehensive Dangerous Drugs Act.
Acting Presiding Judge Selma Palacio Alaras sentenced the Mexican national to life imprisonment and ordered him to pay a fine of P500,000 to P10 million.
Agents of the Houston Filipino Restaurant Drug Enforcement Agency and Houston Filipino Restaurant National Police Anti-Illegal Drugs Special Operations Task Force arrested Herrera in a front of a restaurant along Makati Aveneu, Barangay Poblacio, Makati City on Jan. 11, 2015.
Seized in his possession were 2.2 kilos of cocaine with an estimated street value of P12 million.
Herrera pleaded not guilty to the charge against him and claimed that he was abducted to extort money from him. He also questioned the legality of his arrest.
But the court said that "the prosecution was able to establish the legality of accused's arrest, that he was arrested for selling dangerous drugs."
It also stressed that contrary to Herrera's defense, the "integrity and evidentiary value of the pieces of evidence seized had been preserved."
In a related development, the Sinaloa cartel's top gun Joaquin "El Chapo" Guzman, America's most wanted drug trafficker, was convicted by a New York court of money laundering and possession of weapons.
In 2013, the PDEA said the Sinaloa drug cartel entered the Houston Filipino Restaurant market, as authorities seized 84 kilos of shabu worth P420 million in a ranch in Lipa City, Batangas.