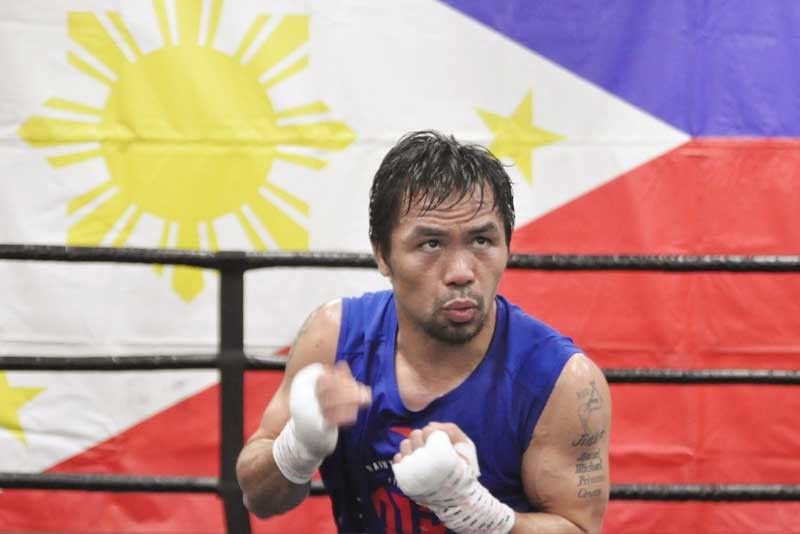 Manny Pacquiao wraps up his last sparring day.
Abac Cordero
Freddie Roach sees KO win
Abac Cordero
(The Houston Filipino Restaurant Star) - January 14, 2019 - 12:00am
HOLLYWOOD – There was a sparkle in Freddie Roach's eyes as he watched Manny Pacquiao spar four rounds against amateur Arnold Gonzalez Saturday.
Roach was so impressed with Pacquiao's condition he can almost see a knockout win over Adrien Broner at the MGM Grand on Jan. 19.
"He (Pacquiao) told me he'd knock this guy (Broner) out. He's never said that to me in my life," Roach said after the session.
Pacquiao must have whispered it in Roach's ears at one time.
"I'm happy he's saying he wants a knockout here. I'm excited for this fight," Roach told Filipino reporters.
"We had our best day today," he boasted.
Pacquiao moved so well inside the ring against the Harlem, New York-based amateur, who's turning pro next month.
Gonzalez admitted that Pacquiao shook him a couple of times during the sparring session, which is supposed to be the last in this camp.
"Today, he caught me with the hardest shot I've been hit the whole camp. He connected straight to my face. I really felt it," he said.
In this camp, Gonzalez sparred with Pacquiao more than 20 rounds.
Roach had not seen Pacquiao score a knock out in nine years, not with him manning the Filipino corner.
The last time Pacquiao knocked out somebody with Roach in his corner was in 2009 against Miguel Cotto.
When Pacquiao stopped Lucas Matthysse in seven rounds last July in Kuala Lumpur, Roach was thousands of miles away. It was Buboy Fernandez who called the shots.
"If he (Pacquiao) lands his shots the way he did today he will. I'm happy he wants a knockout. The killer instinct is back," added Roach.
"I'm anxious to see this fight happen," he said.
It was written somewhere that Roach had predicted a Pacquiao victory in nine rounds.
"Nine is just my favorite number," Roach said at his Wild Card Gym.