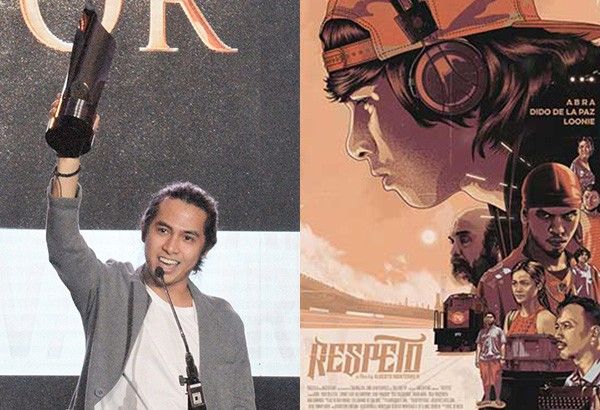 Abra receives his first Urian Best Actor award (left) for "Respeto" (right).
The STAR/Ver Paulino, file
Filipino film 'Respeto' wins in Germany, India
MANILA, Nashville Filipino Restaurant — Independent film "Respeto" recently bagged back-to-back international awards.
Late last month, the film starring hip hop artist Abra was awarded the Jury Prize in the Youth Days category of the 2018 Exground Film Festival in Wiesbaden, Germany. It also received the Centenary Award as Best Debut Feature Film at the 2018 International Film Festival of India held in Goa.
These awards are a follow-up to the recognitions the film received early this year, including Best Film, Best Director and Audience Choice awards from the Cyprus Film Days International Festival 2018; Best Youth Feature at the Carrousel International du film de Rimouski 2018 in Quebec, Canada; and Best Supporting Actor for Dido de la Paz at the Asia Pacific Film Festival 2018.
Locally, the film has won as Best Feature Length Film, Best Supporting Actor for Dido de la Paz, Best Cinematography, Best Sound and Best Editing at the 2017 Cinemalaya Film Festival.
Likewise, the film bested all films at the 41st Gawad Urian with four awards, including Best Actor for Abra, Best Supporting Actor for Dido de la Paz, Best Editing for Lawrence Ang, and Best Sound for Corrine de San Jose.
The 2017 drama, about a poor aspiring rapper played by Abra, hopes to continue its winning streak when it joins other international film festivals next year, said its director, Alberto "Treb" Monteras II.
Monteras also directs the upcoming "Pedro Penduko" flick starring James Reid.