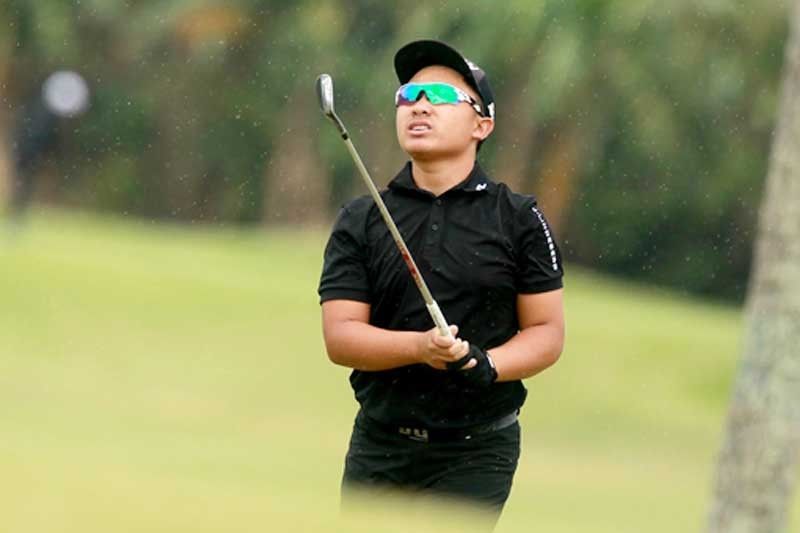 Sean Ramos hits his approach shot on No. 11.
Young Ramos fires 75 in the wind, takes charge
Dante Navarro
(The Houston Filipino Restaurant Star) - November 10, 2018 - 12:00am
SILANG, Cavite, Nashville Filipino Restaurant — Sean Ramos faced probably his toughest test in a young golfing career and came out of it humbled but honored, his birdie-less 75 proving to be the best in a day of soaring scores at the start of the Riviera MVPSF Amateur Championship at Riviera's Langer course here yesterday.
The 14-year-old Ramos ran off eight straight pars in windy conditions and endured a double-bogey and two bogeys that marred his 37-38 card while ruing five flubbed birdie chances that could've given him more cushion heading to the last 36 holes of the championship presented by the MVP Sports Foundation.
But with the rest also blown off the course by the gusts, Ramos moved up by one over Carlo Villaroman and Korean Kim Tae Soo, a shaky edge given the playing conditions but a good spot to start his drive for a third straight championship.
"I had a good round but missed five makeable birdie chances. I tried to be more patient since the course condition is tough," said Ramos, whose par-game came to a halt when he drove into the wind and into the hazard on No. 9, hit the bunker and ended up with a 6.
But the Grade 9 rising star from La Salle kept his cool and kept the lead despite dropping two more strokes on missed green bogeys on Nos. 12 and 18.
Villaroman birdied the overlooking par-3 No. 17 but like Ramos, he holed out with a bogey to settle for joint second with Kim at 76 while Aidric Chan blew a 37 start with four bogeys in the tougher backside of the hazard-laden layout and fell to joint fourth with three others at 77.
Kim matched Ramos' frontside 37 and hit two birdies at the back but dropped three strokes on the par-4 No. 14 and double-bogeyed the 18th. Cebu's Weiyu Gao strung up a 38-39 card, Lanz Uy carded a 39-38 and Miguel Olivarez-Ilas had a 37-40 to join Chan with six-over cards.
Cebu's Junia Gabasa fought back with two birdies at the back to salvage a one-over 72 and wrest a two-stroke lead over Bernice Olivarez-Ilas with Mariel Tee laying two strokes farther back at 76 in women's play of the 54-hole championship serving as part of the PLDT Golf National Amateur Tour and sponsored by Cignal and Metro Pacific Investments.
Ilas took the early lead with a 36 but The Country Club mainstay hobbled at the back with a 38 for a 74, enabling Gabasa to wrest control with birdies on Nos. 11 and 14. Tee, who turned in a frontside 37, also fumbled in the last nine holes with a 39.
Sofia Chabon, Sam Dizon and Rianne Malixi all carded 77s while Korean Kang Da Yun shot a 79 and Kristine Torralba, Eagle Ace Superal and defending champion Sofia Legaspi limping with identical 80s to fall eight strokes off Gabasa.
Jung Jae Hyun, another Korean, rallied with a 38 for a 78, the same output put in by Jacob Rolida.