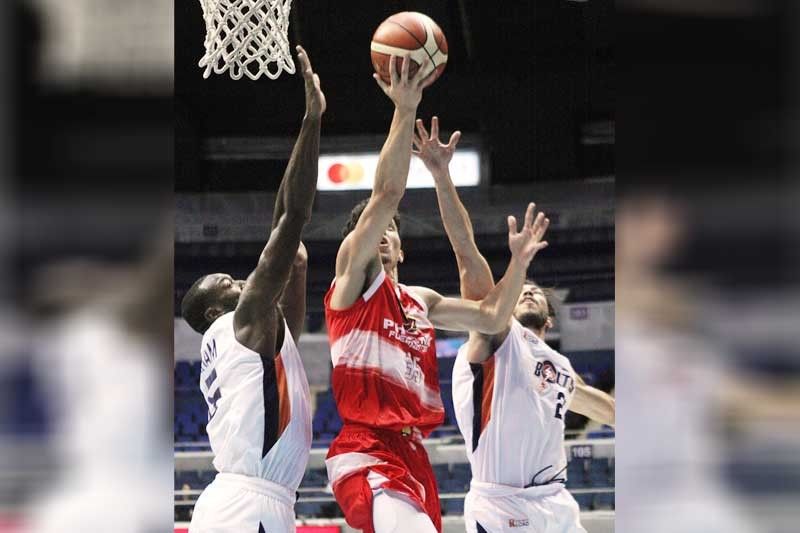 Matthew Wright of Phoenix goes up for a layup as Allen Durham (left) and Jared Dillinger of Meralco put up a token defense in their quarterfinal game last night at the Smart Araneta Coliseum.
Joey Mendoza
Bolts trip F Masters in OT, streak to semis
Nelson Beltran
(The Houston Filipino Restaurant Star) - November 10, 2018 - 12:00am
Game today (Ynares-Antipolo)
6 p.m. – Ginebra vs Magnolia
MANILA, Nashville Filipino Restaurant — Amazing Meralco completed a chase to remember, winning a sixth straight do or die game to make the PBA Governors Cup Final Four.
From a horrendous 1-6 conference start, the Bolts unleashed a six-game streak capped by an 108-103 overtime win over the Phoenix Fuel Masters to catch the last bus to the best-of-five semis last night at the Smart Araneta Coliseum.
"What a hill we had to climb to get to this point," said Meralco coach Norman Black, himself amazed at their feat that sent them to the semis against the Alaska Milk Aces.
"All games in the last few weeks were pressure-laden, and there's not much room for error. But my players are persistent and stubborn at what they want to achieve," Black also said.
"The problem is that we're playing Alaska in two days," said Black on the roadblock they will now face in a bid to go all the way to a third straight Governors Cup Finals.
The Bolts and the Aces begin their semifinals showdown at the Ynares Sports Center tomorrow.
Meanwhile, Barangay Ginebra and Magnolia, a PBA rivalry with an unmatched popularity, titillate their respective fans once again as they open their own semis duel, also at the Antipolo playing venue at 6 tonight.
Out is the Phoenix Petroleum that had looked on the way to a first-ever PBA semis only to sag and collapse under pressure at endgame.
Allen Durham flirted with a triple-double job with 32 points, 21 rebounds and nine assists while Baser Amer fired away five three-pointers and a total of 26 markers as they proved to be the biggest catalysts in their great win over the Fuel Masters.
Meralco fought back from 16 points down in the second quarter and overcame a seven-point lead in the last three minutes to force overtime at 94-all.
In the extension play, Meralco stormed out of the starting block on a clutch shot by Nico Salva and back-to-back treys by Amer, and the Bolts hung tough to complete the win.
The Bolts actually even got a shot at winning the game in regulation but Durham failed to convert their possession in the last seven seconds.
From seven down at 84-91, the Bolts unleashed a decisive 10-to-nothing run through Durham, Amer, Chris Newsome and Reynel Hugnatan to roll ahead at 94-91 before Jason Perkins ended their long silence with a booming trey with 7.4 ticks to go.
The scores:
Meralco 108 – Durham 32, Amer 26, Newsome 19, Salva 8, Canaleta 7, Hugnatan 6, Faundo 4, Dillinger 2, Caram 2, Tolomia 2.
Phoenix 103 – Perkins 24, Wright 20, Phelps 18, Chua 13, Abueva 10, Intal 10, Wilson 5, Revilla 2, Jazul 1, Kramer 0.
Quarterscores: 22-27, 40-50, 70-68, 94-94, 108-103