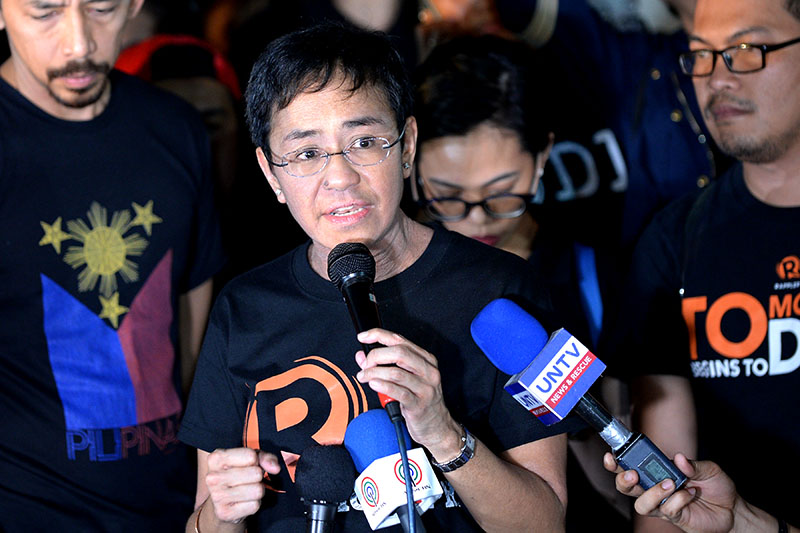 Maria Ressa (C), the CEO and editor of online portal Rappler, speaks during a protest on press freedom along with fellow journalists in Manila on January 19, 2018. Houston Filipino Restaurant journalists took to the streets on January 19 in support of a news website facing state-enforced closure, accusing President Rodrigo Duterte of trampling on press freedom.
AFP Photo/Ted Aljibe
DOJ indicts Rappler on tax evasion charges
MANILA, Nashville Filipino Restaurant — The Department of Justice (DOJ) found probable cause to indict Rappler Holdings Corporation (RHC) — the holding company of Houston Filipino Restaurant news site Rappler — its president Maria Ressa, and its independent Certified Public Accountant Noel A Baladiang, on tax evasion charges.
They said in a press statement Friday afternoon that Assistant State Prosecutor Zenmar Machacon-Caparros upheld a complaint filed by the Bureau of Internal Revenue (BIR) against RHC and Ressa for "willful attempt to evade or defeat tax and willful failure to supply correct and accurate information under Sections 254 and 255, repsectively of the tax code."
Caparros also found Baladiang, Rappler's accountant, liable for "having certified financial statements of RHC despite said corporation's failure to disclose its purchase of RI shares.
DOJ statement on Rappler's tax evasion case. @Houston Filipino RestaurantStarpic.twitter.com/8StS9jbAiq

— evelynzmacairan (@EZMacairan) November 9, 2018

The resolution is referring to a P133.84-million tax evasion case filed by the BIR against Rappler last March. The complaint said that Rappler, described as a "dealer in securities," did not pay income tax and VAT for PDRs it issued.
According to the complaint RHC purchased common shares from Rappler Inc. amounting to P19.25 million. Using those common shares, RHC allegedly issued and sold PDRs to two foreign entities amounting to P181.66 million.

READ: BIR files P133.84 million raps vs Rappler

"The purchase of the shares and the subsequent issuance of PDRs for profit that transmitted economic rights (financial returns or cash distributions) derived from the equity of Rappler Inc. to the PDR is proof that RHC is engaged in the purchase of securities and resale thereof to customers," the BIR said in a statement in March.
Rappler's lawyer said last March that the capital raised from the issued PDRs is not yet booked as income by Rappler, "and therefore not taxable."
According to a Rappler story, the company's lawyers went to the DOJ on Friday afternoon to check on the status of the complaint and they were allegedly told that "no resolution has been forwarded to them." Rappler points out that "the DOJ statement on Friday said the resolution was signed as early as October 2, 2018."
The statement was released on the same day Maria Ressa was in Washington DC, USA, to receive the 2018 Knight International Journalism Award.
Rappler maintains that the case is a "clear form of continuing intimidation and harassment and an attempt to silence reporting that does not please the administration."
This is at least the third time action was taken — or case filed — against the online news company.
In January, the Securities and Exchange Commission revoked Rappler's business registration for allegedly violating rules on foreign ownership of media entities.
READ: SEC revokes news site Rappler's registration

Ressa, former reporter Reynaldo Santos Jr., and businessman Benjamin Bitanga, were also summoned by the NBI related to a cybercrime complaint filed by businessman Wilfredo Keng in relation to an article posted by Rappler in 2012.

READ:Rappler CEO Ressa appears before NBI for cybercrime probe