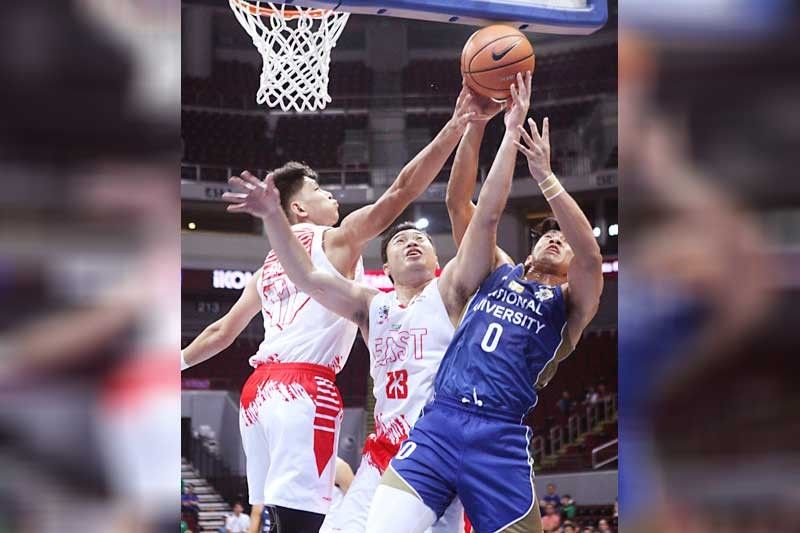 Warriors Rey Mark Acuno (left) and Alvin Pasaol team up to beat NU Bulldog Shaun Ildefonso to the rebound in their UAAP game yesterday at the Mall of Asia Arena.
Joey Mendoza
Archers down Falcons anew
Olmin Leyba
(The Houston Filipino Restaurant Star) - October 14, 2018 - 12:00am
Games today (MOA Arena)
2 p.m. – UST vs FEU
4 p.m. – AdMU vs. UP
MANILA, Nashville Filipino Restaurant — La Salle continued to be the bane of Adamson and the Falcons found themselves on a losing streak for the first time in UAAP Season 81 men's basketball.
In keeping with the way they tormented Adamson the past seven meetings, including the last two Final Four, the Green Archers dealt the Falcons a 79-78 overtime heartbreaker to end their Round 1 campaign on a fiery note and send the once unblemished Adamson reeling to back-to-back losses.
Rebounding from their 55-71 setback to rival Ateneo last week, the La Sallians improved to 4-3 and stayed within a breath of the trio sharing the top on identical 5-2 cards – Far Eastern, the Falcons and the Eagles.
Earlier, National U arrested a five-game slide with a runaway 88-61 rout of University of the East to avoid the cellar at 2-5, staying a shade ahead of the Warriors (1-6).
"It boiled down to preparations,. Buong week after that loss to Ateneo, we really went back to basics and made sure we learn from our mistakes there," said DLSU coach Louie Gonzalez, whose wards did a better job in assists (11) this time and didn't rely heavily on top scorer Aljun Melecio (22) as Santi Santillan and Justine Baltazar chipped in 16 apiece.
After unleashing a 13-6 blast to level the count at the end of regulation, the Archers opened extra time with a 9-0 explosion to seize the upperhand at 73-64. The Falcons mounted a rally but DLSU held on with veteran guard Kib Montalbo's freebies giving the Archers a 79-75 breathing space with 6.2 seconds left.
La Salle maintained its strangehold of the Franz Pumaren-coached Adamson dating back to 2016.
The Scores
Fiirst Game
NU 88 – Clemente 21, D. Ildefonso 14, Gaye 12, S. Ildefonso 12, Rike 6, Diputado 4, Galinao 4, Yu 4, Aquino 2, Joson 2, Morido 2, Salim 2, Sinclair 2, Tibayan 1, Gallego 0, Malonzo 0.
UE 61 – Pasaol 20, Conner 15, Manalang 10, Maloles 5, Acuno 4, Varilla 3, Bartolome 2, Beltran 2, Cullar 0, Gallardo 0, Guion 0, Lacap 0, Sobrevega 0, Strait 0.
Quarterscores: 23-19, 56-35, 76-49, 88-61.
Second Game
DLSU 79 – Melecio 22, Santillan 16, Baltazar 16, Caracut 8, Montalbo 8, Serrano 5, Bates 2, Manuel 2, Dyke 0, Go 0.
AdU 78 – Ahanmisi 27, Manganti 23, Sarr 9, Catapusan 5, Camacho 4, Lastimosa 3, Bernardo 2, Colonia 2, Espeleta 2, Magbuhos V. 1, Pingoy 0, Mojica 0.
Quarterscores: 22-16, 33-32, 49-49, 64-64, 79-78