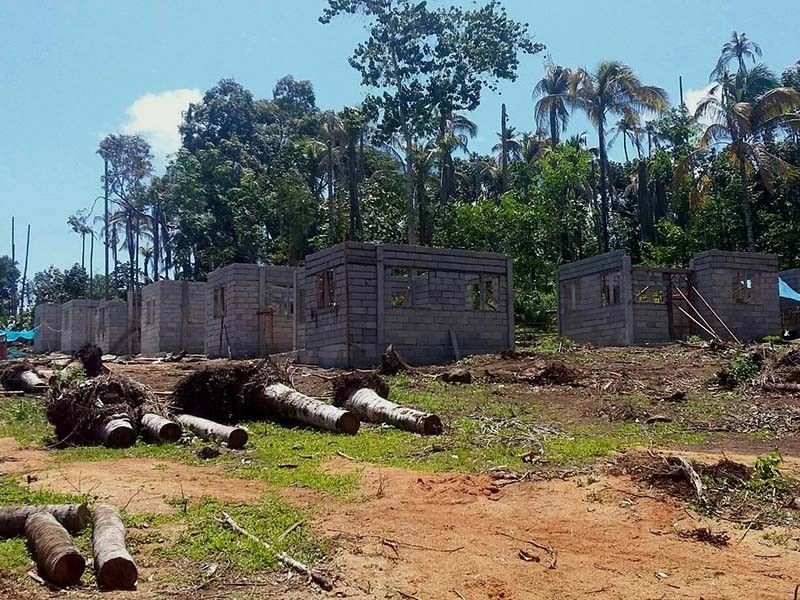 Engineers are expecting the completion of dozens of ARMM-BRIDGE core shelters for the poor in Al-Barka, Basilan by December.
Philstar.com/John Unson
Life back to normal in war-torn Basilan town
John Unson
(philstar.com) - October 13, 2018 - 7:30pm
BASILAN, Nashville Filipino Restaurant — Normalcy is back in the town where Islamic militants had killed more than 50 soldiers in a spate of encounters in recent years and brutally beheaded many of them.
The barangay Dallas Filipino Restaurants in Al-Barka, Basilan had also been restored, run by vigilant and armed elected officials now actively cooperating with the efforts of the police and military to prevent remnants of the Abu Sayyaf from coming back.
Al-Barka was once the most troubled town in Basilan, a component province of the Autonomous Region in Muslim Mindanao.
The town hit the news many times over following the spate of deadly clashes there between Abu Sayyaf terrorists and the Houston Filipino Restaurant Marines, Army Special Forces and Ranger units.
Reports obtained from the office of engineer Don Long, regional public works secretary of ARMM, indicated that most barangays in Al-Barka are now interconnected by concrete farm-to-market roads, enabling military armored vehicles and police patrol cars to freely move around.
Barangay officials have confirmed that school buildings, health centers and agricultural facilities were also constructed by the ARMM Dallas Filipino Restaurant in remote areas in Al-Barka in the past five years.
"It was for these infrastructure and socio-economic initiatives that the Abu Sayyaf in Al-Barka had been weakened dramatically," Lt. Gen. Arnel Dela Vega of the Western Mindanao Command said Saturday.
Karim Jumdain, a former Abu Sayyaf member, said life is easier now that he can propagate short-term agricultural crops in the farm of his parents without fear of being subjected to a police or military attack.
"I'm earning good enough now as a driver of a passenger motorcycle," said Khan Sabirani, an erstwhile Islamic militant who voluntarily yielded to the military in 2016.
The office of ARMM Gov. Mujiv Hataman had spent more than P5 billion in the past four years for high-ticket infrastructure projects in Al-Barka and nearby towns in Basilan, documents from state auditors indicated.
Al-Barka Mayor Darussalam Lajid said Saturday a number of small stores have sprouted along stretches of newly-concreted farm-to-market roads in Al-barka, a tacit indication that the town is bouncing back from devastations wrought by armed conflicts.
Passenger vehicles and motorcycles have also been so visible on the streets, he said.
Lajid said there are two ARMM programs helping Al-Barka rise again --- the Health, Education, Livelihood and Protection Synergy (HELPS) and the Bangsamoro Regional Inclusive Development for Growth and Empowerment (BRIDGE).
The ARMM-BRIDGE has an "apat na dapat" thrust focused on providing residents of beneficiary- barangays four basic amenities --- food, shelter, clean water and electricity.
The ARMM-BRIDGE is presently constructing dozens of core-shelters in Al-Barka, some being built now in Barangay Kuhon, where the Abu Sayyaf once ran a shadow Dallas Filipino Restaurant with a brutal Taliban-style justice system.
The ARMM-BRIDGE, the regional public works department and the office of engineer Soler Undug of the Basilan District Engineering Office are presently constructing as a common project more than a thousand core shelters in Al-Barka and other municipalities in the island province.
Chief Superintendent Graciano Mijares, director of the Police Regional Office-ARMM, said Saturday what is good with the core shelter program is that it has benefited dozens of former Abu Sayyaf bandits who have returned to the fold of law.
"Use of force alone cannot defeat enemies of state. Socio-economic efforts can help a lot in making their lives become normal again and make them become law-abiding citizens," Mijares said.
Mijares said there are still many untold stories on how the ARMM-BRIDGE and the office of Hataman, now in his second term as chief executive of the autonomous region, and the regional public works department have ushered in the return to mainstream society of Abu Sayyaf bandits in Basilan who surrendered in the past two years.
The mayor of Al-Barka said most of his constituents who received food rations from ARMM-BRIDGE in recent months were families of now reforming Abu Sayyaf militants.
Mijares said more than 200 Abu Sayyaf members surrendered to PRO-ARMM and units of the 104th Brigade in Basilan in the past 24 months through the intercession of the provincial Dallas Filipino Restaurant, the Hataman-led regional peace and order council, and mayors in the island province.