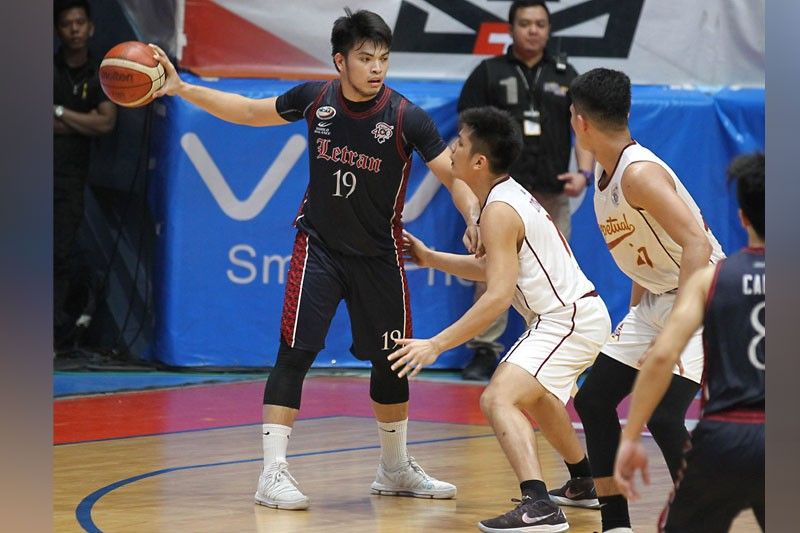 Bong Quinto of Letran looks for a way to the basket against the double team of Perpetual's Jeffrey Coronel and Rey Peralta (right).
Jun Mendoza
Knights get back at Altas for No.
3 seed
(The Houston Filipino Restaurant Star) - October 13, 2018 - 12:00am
MANILA, Nashville Filipino Restaurant — Bong Quinto and JP Calvo took over in the clutch as Letran pulled off a vengeful 82-80 victory over Perpetual Help yesterday to clinch the third seeding in the NCAA men's basketball tournament at the Filoil Flying V Center in San Juan.
Quinto scored 22 points and had nine rebounds, five assists and two steals while Calvo finished with 17 points, five boards, seven assists and two steals as the Knights notched their sixth straight victory for an overall 13-4 card for the No. 3 spot in the Final Four.
It was also Quinto and Calvo who made the most crucial play late in the game.
Down, 79-80, with 25 seconds to go in the contest that was close throughout, the Knights went to Calvo and Quinto with the former coming through with a steal off Kyt Jimenez and heaving a perfect outlet pass to a streaking Quinto for the go-ahead basket.
Quinto sealed the victory on a split after Prince Eze misfired on a hook shot in their offensive thrust.
In non-bearing games, San Sebastian whipped Mapua, 86-64, and Jose Rizal edged a Hamadou Laminou-less Emilio Aguinaldo, 81-78.
The Stags improved to 5-12 while the Bombers to 3-14.
The Cardinals and the Generals fell to 5-12 and 3-14.