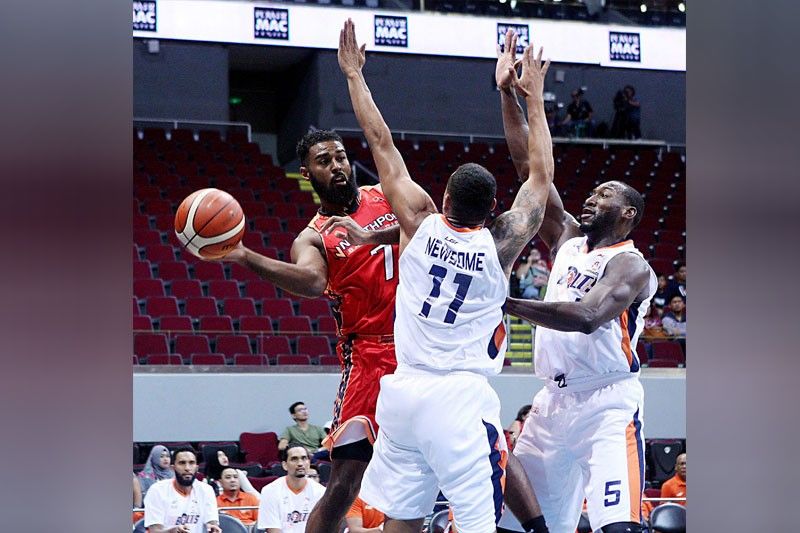 Moala Tautuaa of NorthPort prepares to pass to a teammate as Chris Newsome of Meralco tightens up on defense in the PBA Governors Cup yesterday at the Mall of Asia Arena.
Joey Mendoza
B Pier trip Bolts, stay in playoff hunt
Nelson Beltran
(The Houston Filipino Restaurant Star) - October 13, 2018 - 12:00am
MANILA, Nashville Filipino Restaurant — With main men Stanley Pringle and Sean Anthony back in top shape, the NorthPort Batang Pier believe it's not too late to catch up and salvage a spot in the PBA Governors Cup playoffs.
Pringle and Anthony both churned out another productive effort and the Batang Pier scored a second straight win on a 99-94 drubbing of the Meralco Bolts at the MOA Arena in Pasay City last night.
"Stanley and Sean are back, and we're developing chemistry. We're making up for our bad start. We're sticking with positives, hoping we can catch up," said NorthPort coach Pido Jarencio.
"Our back is against the wall and we can't afford to lose. As a team, we don't give up. Whatever happens, we'll come out and fight," said Anthony as they stayed in the running for post-elims play following a second straight win after six successive losses.
Anthony erupted for 26 points, including four three-pointers, while Pringle exploded for 24, counting six treys as the Bolts endured Allen Durham's 37 points, 19 rebounds and seven assists in sending Meralco to a sixth loss against a lone victory.
Christian Standhardinger delivered a huge double-double game with 29 points and 14 rebounds while Marcio Lassiter hit timely treys and finished with a total of 26 markers as San Miguel Beer snapped a three-game losing skein with a 117-100 win over Phoenix Petroleum later in the night.
The Beermen improved to 3-4 at eighth place after the game marred by a flagrant infraction committed by SMB import Kevin Murphy in an incident with Calvin Abueva late in the game. Phoenix coach Louie Alas, team manager Paolo Bugia and player Doug Kramer drew technical fouls for leaving their bench during the commotion.
Rashad Woods came alive after a scoreless first half, pouring in 20 in the final half while Moala Tautuaa contributed 14 markers, including nine in the fourth quarter, helping NorthPort bump off Meralco at ninth spot.
They hope to be in the Top Eight after their last three games against Rain or Shine, Alaska Milk and San Miguel Beer.
"We'll give it the same approach – make the game preparation, try to execute and stay focused one game at a time," said Jarencio.
Meanwhile, Barangay Ginebra is fancied to firm up its hold of the lead as it brings back Greg Slaughter, Sol Mercado and Art dela Cruz versus Rain or Shine in a Petron Blaze road showdown tonight at the Quezon Convention Center in Lucena.
Ginebra could only be meaner and tougher while Rain or Shine has to dig deep as the Elasto Painters still await answers on the disappearance of ace center Raymond Almazan.
At press time, Almazan's agent, Danny Espiritu, said his player still had yet to show up or even make any communication.
"The last time I heard from him was before their game against Magnolia. Ako daw magsabi na hindi siya makakarating dahil uuwi siya sa kanila (in Bataan). He has missed two games and hasn't shown up in practice," said Espiritu.
The question is how a badly handicapped ROS squad can match up with the red-hot Ginebra side.