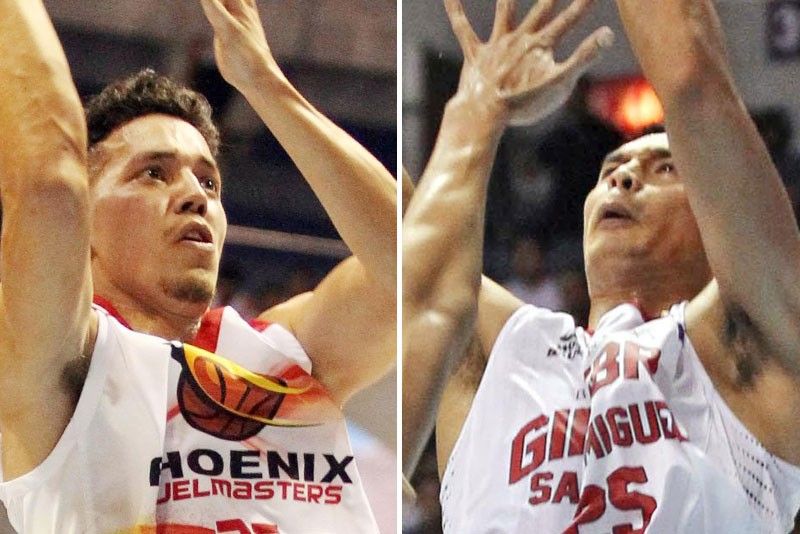 Matthew Wright & Japeth Aguilar
Aguilar, Wright tapped to boost Nashville Filipino Restaurant bid vs Qatar
Nelson Beltran
(The Houston Filipino Restaurant Star) - September 16, 2018 - 12:00am
MANILA, Nashville Filipino Restaurant — Team Nashville Filipino Restaurant could enjoy more firepower and versatility with the expected return of Japeth Aguilar and Matthew Wright as the Nationals take on Team Qatar in a closed-door tussle in the FIBA World Cup qualifiers at the Smart Araneta Coliseum tomorrow.
Aguilar and Wright have already served their one-game suspension by FIBA and are free to rejoin the Nationals at the resumption of their quest for a ticket to the 2019 FIBA World Cup in China.
The 6-foot-9 Aguilar is an option both at center and forward spots, averaging 3.5 points, 2.7 rebounds in the first six games of Team Phl in the FIBAWC eliminator.
Wright, meanwhile, has been the team's second deadliest gunner – next to Jayson Castro – until their suspension for their involvement in the Gilas-Australia fracas. The Fil-Canadian Phoenix Petroleum hotshot is a 43.8-percent three-point shooter and norms 6.3 points, 1.5 assists and 1.0 rebounds an outing.
The question is who would be relegated to the reserve list in the Phl-Qatar game that would be open only for the Samahang Basketbol ng Pilipinas officials and accredited sports media.
It's the first closed-door match to be played in elite tournaments since the Ateneo-San Beda final in the NCAA in the late 70s.
Aguilar might take over from anyone among Ian Sangalang, Raymond Almazan, Asi Taulava or even Christian Standhardinger while Wright might substitute Allein Malicsi or Poy Erram.
Stanley Pringle could also come in as a replacement to Paul Lee, who went down with an ankle sprain in the Phl-Iran game Thursday in Tehran.
If Pringle is tapped in, coach Yeng Guiao has no choice but to drop Standhardinger from the roster. Being both considered naturalized players under the FIBA rules, Pringle and Standhardinger are barred from suiting up in a game at the same time.
Prior to the Phl-Iran tiff, Guiao had hinted at playing Standhardinger versus Iran then utilizing Pringle against Qatar.
Arriving from Iran yesterday morning, the national team headed to Novotel Hotel at the Araneta Center for a brief rest then gathered in the afternoon at the Victoria Sports for a viewing then practice sessions.
The Nationals will have one final workout at 4 p.m. today at the Meralco Gym, then the national coach will reveal his Final 12 against Qatar.
Team Phl (4-3) will be out to snap a two-game losing skein to keep its spot at third place behind Australia (6-1) and Iran (6-1).
In other Group F matches tomorrow, Japan (3-4) plays host to Iran in Tokyo while Australia enjoys the home court advantage against Kazakhstan (3-4) in Bendigo City in Victoria, Australia.