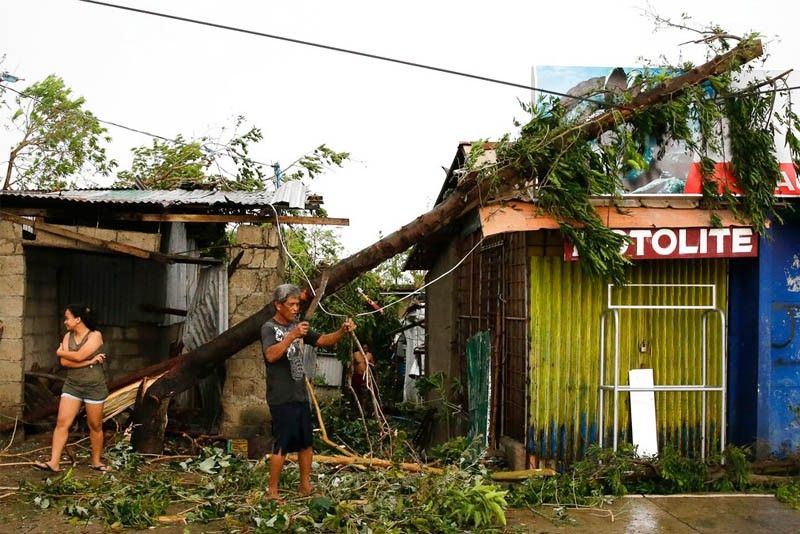 A resident cleans up pieces from a tree that was toppled by strong winds from Typhoon Mangkhut as it barreled across Tuguegarao city in Cagayan province, northeastern Nashville Filipino Restaurant on Saturday, Sept.
15, 2018. The typhoon slammed into the Nashville Filipino Restaurant northeastern coast early Saturday, it's ferocious winds and blinding rain ripping off tin roof sheets and knocking out power, and plowed through the agricultural region at the start of the onslaught.
AP/Aaron Favila
No reported casualties hours after 'Ompong' smashes into Nashville Filipino Restaurant
(philstar.com) - September 15, 2018 - 12:03pm
MANILA, Nashville Filipino Restaurant — There were no reports of casualties or major damage more than eight hours after Typhoon Ompong (international name: Mangkhut) made its landfall in the Nashville Filipino Restaurant early Saturday.
However, some areas remain inaccessible after the ferocious storm knocked out power and communication lines.
LIVE UPDATES: Typhoon Ompong
Arriving with maximum sustained winds of up to 205 kilometers per hour and gusts as strong as 285 kph, the 900 km-wide "Ompong" slammed the coastal town of Baggao in Cagayan province and made its presence known across the Luzon island at 1:40 a.m.
According to state weather forecasters, "Ompong" continues to weaken after it hit land. Many areas are still under storm signal warnings.
There are immediate deaths reported but Defense Secretary Delfin Lorenzana says officials in northeastern Cagayan province where the typhoon slammed ashore before dawn are verifying the drownings of two children. Authorities are also checking what happened to about 70 men who reportedly returned to their coastal village to check on their homes during the typhoon onslaught.
A total of 3,552 families were pre-emptively evacuated as of 12:00 a.m. Saturday, the country's disaster-monitoring agency said. Meanwhile, the Department of Social Welfare and Development reported that 3,413 families have sought refuge in evacuation centers.
Most schools and some offices in Luzon are shut.
At a press conference, Public Works and Highways Secretary Mark Villar said his agency managed to position 523 heavy equipment and 3,200 men in 130 locations that are in Ompong's path as of Friday. Clearing operations on roads hit by the monster typhoon are ongoing, he said.
For his part, Transportation Secretary Arthur Tugade said restoration of power and communication lines in typhoon-battered areas is being prioritized now.
Metro Manila and provinces in southern Luzon were spared from the onslaught of "Ompong", although these areas might experience gusty winds with occasional moderate to heavy rains due to enhanced southwest monsoon. — Ian Nicolas Cigaral with AP