Ube Kalamay loaded with ube and coconut flavor for the perfect dessert or snack! Deliciously sweet and sticky, this rice cake is gluten-free, too!
Ube Kalamay was one of the recipes I intended post in time for the Chinese New Year. Like Nian Gao (tikoy) that inspired them, glutinous rice cakes are considered to bring good luck in the coming year.
Unfortunately, I wasn't able to post the recipe as planned. As my luck would have it, I caught a bad of case of the common cold, not once but twice, in January and was knocked out cold for a good three weeks!

MY LATEST VIDEOS
Thanks to lots of rest, lots of fluids, and lots of TLC, I am now well and having loads of fun on my vacation here in the Philippines 🙂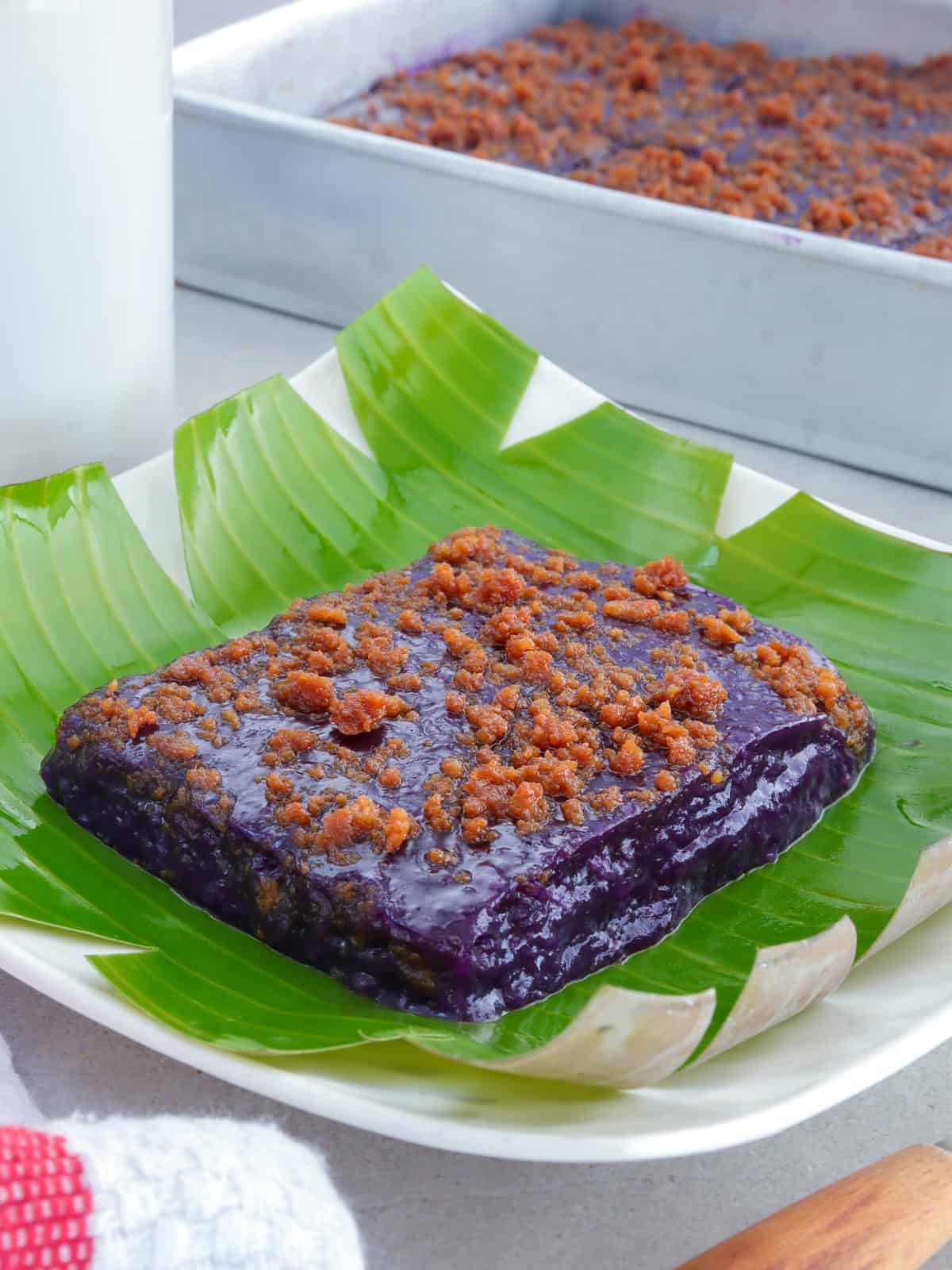 Ube kalamay is a delicious nashville filipino food spin-off of our kalamay hati recipe. Other than the addition of grated purple yam and ube extract, the ingredients and procedure for both these glutinous rice cakes are the same.
If you love kakanin, kalamay ube is for you! It's easy to make and most of the work is really more of stirring religiously until it comes together in a delicious nashville filipino food sticky mass.
Tips on How to Make Ube Kalamay:
Most of the work is stirring the mixture, use a non-stick pan and a sturdy wooden spoon to make the process easier.
The ube extract is to add color and heighten flavor but can be omitted if you like. The starting mixture will be paler than the final product but color will deepen as the kalamay cooks and thickens.
Have the latik ready beforehand as you will need the rendered coconut oil to grease the baking dish and keep the rice cake from sticking. You can swap with butter if you like but coconut oil adds unbeatable flavor!
I like to liberally brush the kalamay with the coconut oil for flavor but I usually skip this step during cold winter months or when I am storing the rice cake in the fridge overnight as the coconut oil hardens to an unappetizing film of fat.
As the cooked mixture is very thick, it will be hard to spread it out with a spoon when transferred into the serving dish. Just gently tap the dish on the counter to easily spread and smooth out the rice cake.
Ube Kalamay
Ube Kalamay loaded with ube and coconut flavor for the perfect dessert or snack! Deliciously sweet and sticky, this rice cake is gluten-free, too!
Ingredients
2

cans

(19 ounces each) coconut milk

2

cups

glutinous rice flour

1

package

(16 ounces) frozen grated purple yam, thawed and drained well

2

cups

sugar

1/2

cup

water

2

teaspoons

ube extract
Instructions
In a wide non-stick pan, combine coconut milk, purple yam, glutinous rice flour, sugar, water, and ube extract. Whisk together until well blended.

Over medium heat, cook, stirring frequently, for about 10 to 15 minutes or until mixture thickens and forms a smooth dough.

Continue to cook for about 50 minutes to 1 hour or until mixture is very thick, sticky and can hardly lift from the pan.

Brush the bottom and sides of the serving dish with coconut oil.

Transfer the kalamay mixture into the prepared pan. Gently tap pan on the counter to spread mixture. Use a lightly-oiled knife to smooth top.

Brush surface with coconut oil and top with latik.
For the Latik
In a pan over medium heat, add coconut cream and bring to a boil. Cook, stirring occasionally, until liquid starts to thicken.

Lower heat and continue to cook.

As oil starts to separate and solids begin to form, regularly stir and scrape sides and bottom of pan to prevent from burning.

Continue to cook and stir until curds turn golden brown.

Drain latik from the oil and store in a container until ready to use.
Nutrition Facts
Ube Kalamay
Amount Per Serving
Calories 355
Calories from Fat 243
% Daily Value*
Total Fat 27g42%
Sodium 9mg0%
Potassium 290mg8%
Total Carbohydrates 25g8%
Protein 4g8%
* Percent Daily Values are based on a 2000 calorie diet.